The firm's partnership across Auckland and Wellington has swelled to a total of 34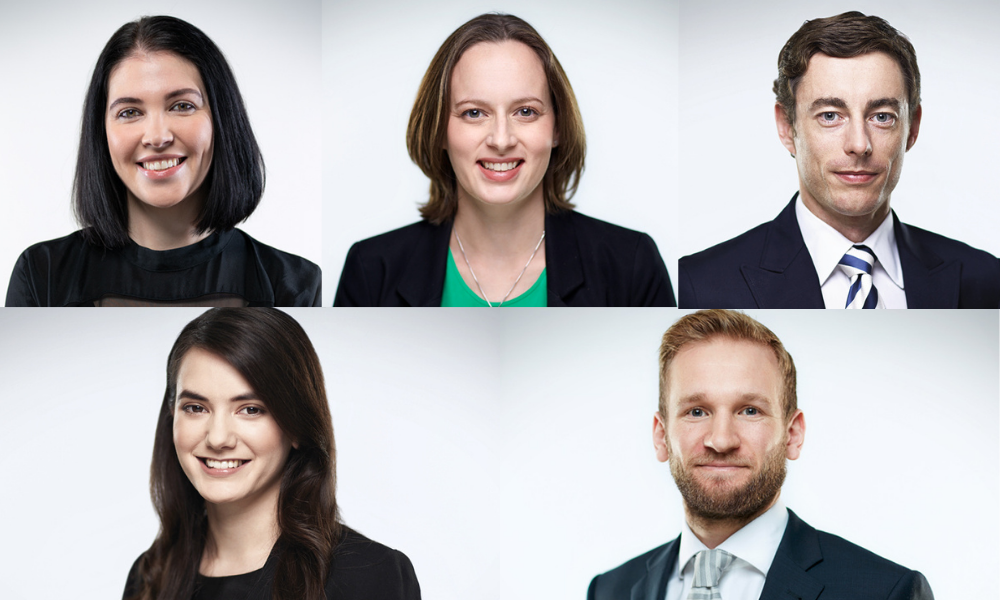 The announcement of new partnership promotions has highlighted the career growth opportunities at Meredith Connell.
Five lawyers have been named to the partnership: Fiona Culliney, Stephanie Earl, Sam McMullan, Susannah Shaw and Henry Steele. Culliney, Earl, McMullan and Steele operate from Auckland, while Shaw works from Wellington.
Their appointments bring the total number of partners at the firm to 34. The firm confirmed that 41% of the partnership is composed of women.
"It is my privilege as managing partner to publicly congratulate those invited to become partners. We look forward to them becoming the next generation of leaders in our firm and wider profession over the decades ahead," managing partner Steve Haszard said.
Culliney works with Meredith Connell's Crown specialist team, and has experience in serious crime and regulatory prosecutions. She has acted as a prosecutor for the Crown before the District Court and High Court, in addition to serving as counsel for the New Zealand Police and the solicitor-general.
She has tackled cases involving sexual violence, large-scale drug operations, financial crime and violent offence, including homicide. She has also represented parties in the UK and Australia on extradition matters.
Earl first joined Meredith Connell in 2008 before heading overseas to the UK, where she worked with the treasury solicitor's department. She made her return to the firm in 2013 as a member of the public and regulatory group.
She regularly acts as Commissioner of Police counsel, and has also acted for the Ministry of Business, Innovation and Employment chief executive in immigration proceedings. She has also represented the Real Estate Agents Authority and the New Zealand Law Society as counsel on regulatory matters.
McMullan kicked off his legal career at the Wellington High Court, where he was a judges' clerk before making the jump to Meredith Connell. He has led the prosecution in more than 40 trials.
He has taken on cases related to fraud, drug, serious violence and sexual offending, advising insurers, government agencies and the police. He has also handled construction and insurance concerns as a second counsel in civil proceedings at the High Court, and is part of the Courts Martial defence counsel panel.
Shaw has tackled public law, contracts, trust law, property disputes and tort claims in her career as a litigator. She has represented clients before various tribunals, as well as the District Court, High Court, Court of Appeal and Supreme Court.
She came on board the Meredith Connell team in 2015 after a stint as a Court of Appeal judges' clerk and as a part of Crown Law's public law team. Her clients hail from both the public and private sectors.
A senior Crown prosecutor, Steele has extensive experience in criminal and commercial litigation. He has appeared on instruction for the police and the corrections departments and represented the Crown before the Court of Appeal, in addition to prosecuting High Court and District Court jury trials,
Prior to joining Meredith Connell, he was a solicitor on Bell Gully's litigation team until 2011. He also led extradition and judicial review cases during a stint with the Chambers of Paul Davison QC.
The firm also elevated 12 senior associates and 16 associates, bolstering its offerings in civil litigation; insolvency and recoveries law; public, regulatory and human rights law; medical law; trusts and asset protection; property law and conveyancing; civic infrastructure; environmental, planning and local government law; competition and regulatory law; public and private international law; health, safety and employment law; and criminal prosecution.
"As MC constantly modernises and renews, we offer a career pathway that gives New Zealand's best senior solicitors, judges clerks and graduates a chance to shine early in their careers, including in court; to progress as associates, senior associates and partners within our firm; and then often make their way to be leaders at the bar or bench," Haszard said. "No other large New Zealand firm has evolved and grown the way MC has over the last seven years, and therefore been able to provide so many promotional opportunities."
The partnership appointments are subject to Law Society requirements.