The firm has also announced new special counsels and senior associates for 2023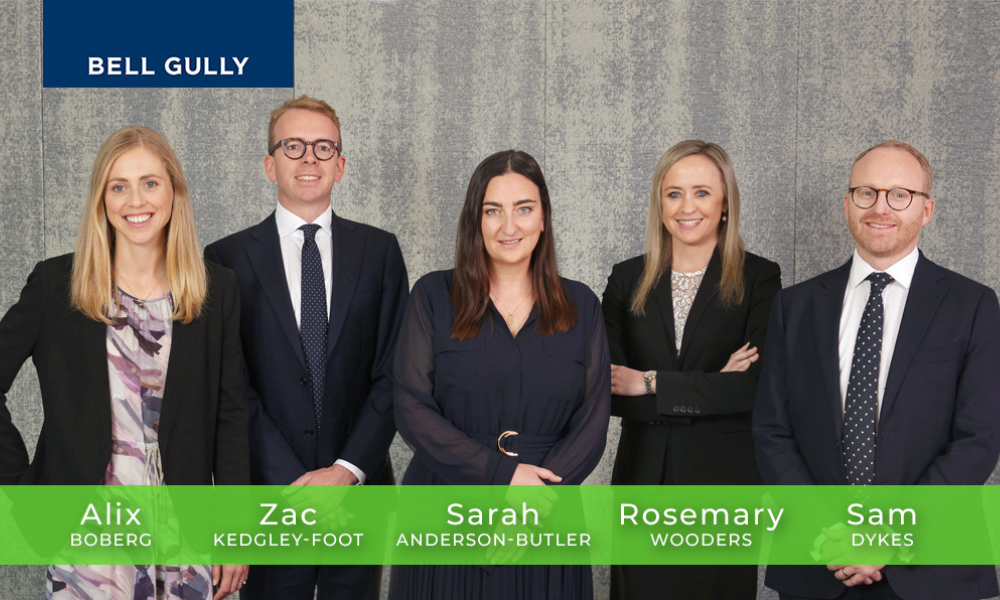 Bell Gully has announced the appointment of five new partners, three special counsels, and four senior associates for 2023.
The new partners are experienced banking and finance lawyers Sarah Anderson-Butler, Zac Kedgley-Foot, Sam Dykes, employment lawyer Rosemary Wooders and litigation lawyer Alix Boberg.
Anderson-Butler has substantial experience in general corporate lending and lending on all classes of real estate assets. Her practice encompasses property portfolio acquisitions of logistics, data centre and hotel and leisure sector asset classes, operating company or property company transactions, commercial and residential development facilities and senior or mezzanine debt structures and inter-creditor arrangements.
Kedgley-Foot has advised clients on a broad range of banking debt, debt capital markets, derivatives transactions, and financial services regulation. He specialises in domestic and international banking and capital markets transactions, including structured, acquisition, infrastructure, project, corporate and leveraged financings and regulating financial products, services, and markets in New Zealand.​
Dykes has assisted clients with financing transactions, including acquisition finance, property finance, project finance and general syndicated and bilateral lending. He also performs a key role in supporting the firm's corporate team on M&A transactions.
In addition to practising in New Zealand, Wooders has worked as an employment lawyer in London. ​​She has advised employers and senior executives on transactional, contentious and advisory employment cases, including personal grievances and disputes, collective bargaining matters, restraints of trade, team move matters, absence management, redundancy and performance issues, and negotiated exits. She also specialises in health and safety, and privacy cases.
Boberg has acted for clients in complex commercial disputes and regulatory investigations, with particular expertise in corporate crime, fraud and financial regulation. Her work in the past year covered clients in the banking, asset management, insurance, manufacturing, transport, energy and construction sectors.
"We are pleased to welcome Sarah, Zac, Sam, Rosemary and Alix to the partnership. They have all contributed significantly to Bell Gully, working on some of the largest and most complex matters with local and international clients and adding to the depth of Bell Gully's partnership," Bell Gully chair and partner Andrew Petersen said.
The firm also promoted three lawyers to special counsel:
Elena Chang – projects and real estate special counsel
Hayden Roberts – tax special counsel
Melissa Ahlefeldt – corporate special counsel
The firm's four new senior associates are as follows:
Anna Codlin – employment senior associate
Ellie Taffs – resource management senior associate
Savannah Feyter – tax senior associate
Philip Zander – corporate senior associate