This year's Partridge Jewellers Large Law Firm of the Year Award winners, Minter Ellison Rudd Watts, tell NZ Lawyer how they work to develop client relationships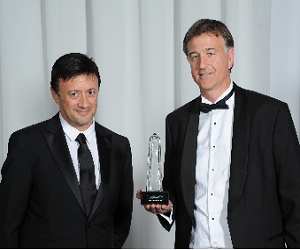 The approach to client service taken by Minter Ellison Rudd Watts, winner of this year's Partridge Jewellers Large Law Firm of the Year Award, is driven through an active training programme that encourages all staff at the firm to think about the client and its particular industry, says Managing Partner Mark Weenink.
The firm's "listen, care, deliver" mantra was borne out of research on growing revenue. However, the sentiment goes much further. Its mentor programme for staff sees younger lawyers paired with more experienced lawyers to learn how to better understand client needs.
"We teach our lawyers to get out from behind their desks and go visit clients and learn how their business operates and what's important to them," says Partner Mark Sandelin. And this approach is clearly a winner with clients with one commenting in its nomination that the firm had "absolute commitment".
Part of that active listening approach is "understanding the individual within the organisation, what is going to make them look good, what is happening with that advice, is it going to a board, what form do they need it in", adds Weenink. "Every [firm] is striving for that client-centric approach", so, putting a lot more thought into what its lawyers are doing has been a key driver for the firm's mentoring programme. Speaking of their double win at the Awards (the firm also picked up the Community Service in Law Group Award), Weenink said that it was important for New Zealand to have awards.
"We are just keen as a firm to see the Awards get better and better…we are happy to be proactive as far as that is concerned".