A record 610 attendees gathered tonight for the highly-acclaimed industry event which saw 28 awards handed out.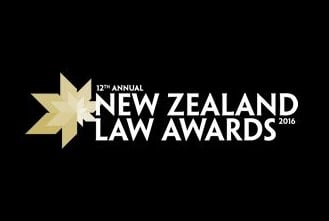 Six hundred and ten prominent legal professionals gathered at Auckland's Langham Hotel tonight as the 12
th
annual New Zealand Law Awards took place, recognising excellence across the industry.
"Everybody's in high spirits and it's fantastic to see people celebrating their own successes as well as those of their peers," said event manager Jemma Tolhurst.
Radio personality Leah Panapa served as MC for the evening, stepping in at the last minute for TV journalist Mike McRoberts who is still covering the after-effects of this week's major earthquake.
Musical entertainment was provided throughout the evening by Two Many Chiefs and funk band Hipstamatics ensured a high-energy end to the night with many attendees taking to the dance floor.
The full list of tonight's 28 winners is below:
2016 New Zealand Law Awards winners:
Regional/Suburban Law Firm of the Year
Winner: BlackmanSpargo Rural Law Ltd
Highly commended: Dean & Associates
Boutique Law Firm of the Year
Winner:
Webb Henderson
Highly commended:
Simmonds Stewart
Crowe Horwath Mid-size Law Firm of the Year
Winner:
Anderson Lloyd
Highly commended:
Anthony Harper
CommArc Large Law Firm of the Year
Winner:
Chapman Tripp
Highly commended:
Bell Gully
Employment Law Specialist Firm of the Year
Winner:
Dundas Street
Highly commended: McBride Davenport James
Crowe Horwath Litigation & Dispute Resolution Specialist Law Firm of the Year
Winner:
Wilson Harle
Highly commended: Gilbert/Walker
Intellectual Property Specialist Law Firm of the Year
Winner:
AJ Park
Highly commended: Baldwins Intellectual Property
Property & Construction Specialist Law Firm of the Year
Winner:
Thompson Blackie Biddles
Highly commended: Queen City Law
AIG Insurance Specialist Law Firm of the Year
Winner:
DAC Beachcroft New Zealand
Highly commended: McElroys Lawyers
Legal Personnel Employer of Choice (1-50 Employees)
Winner: Daniel Overton & Goulding
Highly commended: Potter IP
Legal Personnel Employer of Choice (51-100 Employees)
Winner: Anthony Harper
Highly commended:
Hesketh Henry
Legal Personnel Employer of Choice (>100 Employees)
Winner: Anderson Lloyd
Highly commended:
Buddle Findlay
Resolution Institute Mediator of the Year
Winner: Sharon Stewart
Highly commended: Carol Powell
Artemis Executive Recruitment Young Private Practice Lawyer of the Year (35 or under)
Winner: Sarah Scott,
Simpson Grierson
Highly commended: Rebecca Rose, Bell Gully
Anthony Harper Young In-house Lawyer of the Year (35 or under)
Winner: Alex Mamo, Fonterra Co-operative Group Ltd
Highly commended: Libby Major, Public Defence Service
Financial Services In-house Team of the Year
Winner: ANZ
Highly commended: New Zealand Superannuation Fund
Russell McVeagh In-house Team of the Year
Winner:
ANZ Legal Group
Highly commended: New Zealand Superannuation Fund
MinterEllisonRuddWatts In-house Lawyer of the Year
Winner: Katherine Anderson, Auckland Council
Highly commended: Katrina Gardiner, ANZ
NZ Lawyer Deal Team of the Year (<100 Employees)
Winner:
Harmos Horton Lusk
Corporate and M&A Team
Highly commended: Mayne Wetherell M&A Team
Deal Team of the Year (>100 Employees)
Winner: Bell Gully Corporate Team
Highly commended: Chapman Tripp Corporate & Commercial Team
M&A Deal of the Year
Sale of Vector Gas
Capital Markets Deal of the Year
Solid Energy voluntary administration
Mid-Market Deal of the Year
Merger to form Coretex and Milford investment
Consumer, Media & Tech Deal of the Year
Spark sale of Telecom Rentals
International Deal of the Year
GE Capital's sale of its consumer finance business
New Zealand Deal of the Year
Solid Energy voluntary administration
Crowe Horwath Managing Partner of the Year (<100 Employees)
Winner:
Malcolm Hurley
, Anthony Harper
Highly commended: William Antony Holden, DAC Beachcroft New Zealand
Crowe Horwath Managing Partner of the Year (>100 Employees)
Winner:
Chris Gordon
, Bell Gully
Highly commended: Steve Haszard, Meredith Connell