A unique and hugely successful Sydney-headquartered law firm that's modelled on a "start-up" business is preparing to be one of the first of its kind to open up an office in NZ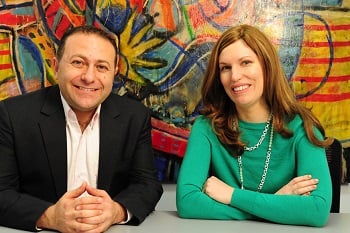 A Sydney-headquartered law firm that is modelled on a "start-up" business has revealed bold expansion plans that include opening up an office in New Zealand.
Since opening in 2011, KWS Legal has already added another two offices to its repertoire; opening in Jerusalem in 2013 and in Melbourne earlier this year.
The firm, which was moulded around the concept of a start-up business, has also grown from just two lawyers to a staff list of more than 33 in that time.
Speaking with
NZ Lawyer's
sister magazine
Australasian Lawyer
, KWS Legal senior partner Michael Kadoury explained that firm has even further growth plans for 2015.
As well as becoming a full national firm in Australia, it plans to expand its international footprint, with New Zealand and American offices to be launched in the next year or so, and opportunities in France, South Africa and the UK also being explored.
Founded by Kadoury and managing partner Harriet Warlow-Shill, modelled on the idea of an IT start-up business, the firm is already a rapidly-growing success story.
It was a finalist in the 2014 Telstra Business Awards in the start-up category: A first for any legal company in Australia.
And it's also one of the first Australian firms to take advantage of the fast-growing
need
for legal professionals in Israel, thanks to its office in Jerusalem.
It has now
has negotiated and overseen 12 % of the annual trade from Australia to Israel, and 5% of trade from Israel to Australia.
Managing partner Warlow-Shill is excited at the prospect of continuing the firm's success story in the New Zealand market.
She told
NZ Lawyer
that it's looking to open up shop here in mid-late 2015. Initially at least, the firm would like to have a partner and a small team working on Kiwi ground.
"We're looking for people with a commercial focus who are interested in working for a global brand," she says.
Warlow-Shill says New Zealand is an ideal market for KWS Legal because the innovative nature of the country fits well with the firm's culture and strategy.
"New Zealand is underrated as being a leader of innovation, and that's something we can see and would love to take advantage of."
The firm will be one of the first of its kind to enter this market.
Kadoury says that modelling a law firm on a start-up brings a new energy to the table – the kind you'd see in a software company.
He says KWS' point of difference comes from the workplace culture and approach to clients and employees, as well as the fact that almost all of the staff in the practice comes from an entrepreneurial background.
The firm is also built around a concept of family values, which has been a great encourager for female lawyers to get on board and make use of the flexible working hours, the use of remote technology, and the child-friendly space in the Sydney office.
Kadoury can't understand why women who have kids are being stifled in terms of their growth path in some law firms.
On the contrary, having working mums on board has actually been advantageous from a commercial perspective for KWS, he says.
"As a start-up you're not able to hire someone full time from day one. We're able to say, 'come on board, start part time', and then they build up a client base so when they are ready to move into full time we can accommodate that."
But it's not just the flexibility that gives KWS a distinctive start-up feel. It is also the use of the latest technology to connect clients and staff from different corners of the globe, and its alternative fee arrangements.
Wherever possible the firm uses a fixed price model, with the exception of litigation.
But in this case, instead of working from a traditional one minute unit method whereby one minute is usually charged at six minutes of time, KWS charges one minute for one minute.
"We've actually had some trouble with our software in doing that because it's used to six minute units," laughs Warlow-Shill.
"We say to our staff we want them to be productive for 75% of the time they're working rather than saying to them they have to achieve a certain amount of units. We don't put them under as much pressure as a commercial law firm."
KWS also believes in investing a significant amount of money into each lawyer and supporting them to partake in higher studies.
Using a start-up model to build up the firm has also had some unexpected and far reaching spin-offs, says Kadoury.
Several of their clients were also start-ups when KWS took them on, and are now "very" large companies, he says. Being with them as trusted advisors from day one has made all the difference.
"My approach to business is to treat the law firm like any other technology start-up. The advice I give to our clients I give to ourselves, and that's what we're doing," Kadoury says.
"Now the balance is keeping our culture and our core values intact as we grow."