One of New Zealand's largest firms has appointed a former Linklaters partner to help head-up its Auckland banking and finance team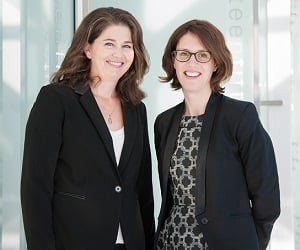 Kensington Swan has announced that Nicole Xanthopol, previously a partner in the banking department of
Linklaters
in London, will join partner Katie Carson in leading the firm's Auckland banking and finance team.
Carson, originally from England, joined Kensington Swan's banking and finance team in January 2012 after seven years in the banking team at
Bell Gully
. She's worked in New Zealand for 15 years, with her first job in the country being at
Chapman Tripp
back in 1997 when she was travelling on a "gap year" after graduating from Oxford.
She says she's looking forward to expanding the Kensington Swan team with someone of Xanthopol's calibre and experience.
"I have thoroughly enjoyed the team environments in the firms I have worked in previously, so this is an exciting development for me personally. For clients, our two-partner banking practice will, I think, be a welcome development to enable us to handle more transactions of scale, without any change to our easy-to-work-with approach. So, I'm looking forward to working alongside a good sort like Nicole, and supporting some interesting clients and deals in 2014."
Carson adds that it's a competitive market for private practitioners, with many well-established lawyers and strong brands.
"The challenge is to adapt to the developments of recent (and future) years. For example, there have been many changes in work types and client expectations of value in the banking and finance sector and the traditional operating models do not always meet the market. Additionally, the pace of increased regulation and compliance is, of course, an issue that private practice and in-house lawyers alike are having to get to grips with in this sector."
Xanthopol says her decision to return to New Zealand and help head-up the banking and finance team at Kensington Swan was easy, for a number a reasons.
"I was never a 'lifer'," she says. "There are so many reasons to return to this terrific country. My husband Andrew and I always intended to return and stayed longer than we originally planned when I was made a partner at Linklaters in London. We returned when we did so that our eldest daughter could start school in New Zealand."
She says she's chosen to work with Kensington Swan due to the firm's "excellent service by a team of very nice people".
"I appreciated their contemporary view of rewarding skill and expertise while embracing flexible work options. I am working flexibly at the moment and enjoy being in a well-balanced partnership with committed people at all levels."
The team have participated in recent "field trips" in order to get to know clients' businesses, including visits to superyacht-building yards and livestock auctions, as well as in-house secondments.
"I think that getting an understanding of the specific front-line commercial pressures facing our clients' businesses is crucial to providing great professional service," says Carson.