A record 610 legal professionals attended the 2016 New Zealand Law Awards at the Langham last night. Who were the big winners?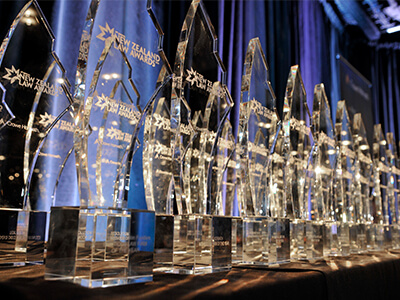 The 12
th
annual New Zealand Law Awards were held at The Langham Auckland last night with the best firms and in-house legal teams revealed.
Sponsored for the third consecutive year by official partner
Crowe Horwath
, the event was attended by a full house of 610 of New Zealand's top legal professionals. Awards were presented in 28 categories covering firms, in-house teams and deals.
Radio star Leah Panapa charmed the crowd as MC for the night, stepping in for Mike McRoberts who has been covering the Kaikoura earthquake this week. Musical entertainment was provided by Two Many Chiefs and high-energy funk and soul band Hipstamatics, which ended the night with a bang.
The ANZ legal team was one of the big winners on the night, taking home the
Russell McVeagh
In-house Team of the Year award and the Financial Services In-house Team of the Year. The large team is led by general counsel
Craig Mulholland
, last year's In-house Lawyer of the Year winner.
This year it was Katherine Anderson of Auckland Council who took home the title of
MinterEllisonRuddWatts
In-house Lawyer of the Year. Anderson became a member of Auckland Council's executive team in early 2014 and leads an in-house team of 50, one of the largest in New Zealand.
The Commarc Large Law Firm of the Year award went to
Chapman Tripp
, which last won this category in 2014. The firm has the largest partnership of any New Zealand firm and acted on several of the largest deals and matters over the past year.
In a year marked by several significant deals, the award for NZ Deal of the Year went to the Solid Energy voluntary administration. At $600m it was one of the largest and most complex and high-profile voluntary administrations in NZ history, involving an unprecedented list of domestic stakeholders.
Finally, the Crowe Horwath Managing Partner of the Year (<100 Employees) and Managing Partner of the Year (>100 Employees) categories were taken out by
Malcolm Hurley
of
Anthony Harper
and
Chris Gordon
of
Bell Gully
respectively. Neither are newcomers to the New Zealand Law Awards victory pool –
Anthony Harper
is a three-time winner of the Legal Personnel Employer of Choice (51-100 Employees) category while
Bell Gully
won Large Law Firm of the Year in 2015.
Congratulations to all of last night's award winners. Photos and video coverage from the event will be available next week at
www.lawawards.co.nz
.
2016 New Zealand Law Awards winners:
Regional/Suburban Law Firm of the Year
Winner: BlackmanSpargo Rural Law Ltd
Highly commended: Dean & Associates
Boutique Law Firm of the Year
Winner:
Webb Henderson
Highly commended:
Simmonds Stewart
Crowe Horwath Mid-size Law Firm of the Year
Winner:
Anderson Lloyd
Highly commended: Anthony Harper
CommArc Large Law Firm of the Year
Winner: Chapman Tripp
Highly commended: Bell Gully
Employment Law Specialist Firm of the Year
Winner:
Dundas Street
Highly commended: McBride Davenport James
Crowe Horwath Litigation & Dispute Resolution Specialist Law Firm of the Year
Winner:
Wilson Harle
Highly commended: Gilbert/Walker
Intellectual Property Specialist Law Firm of the Year
Winner:
AJ Park
Highly commended: Baldwins Intellectual Property
Property & Construction Specialist Law Firm of the Year
Winner:
Thompson Blackie Biddles
Highly commended: Queen City Law
AIG Insurance Specialist Law Firm of the Year
Winner:
DAC Beachcroft New Zealand
Highly commended: McElroys Lawyers
Legal Personnel Employer of Choice (1-50 Employees)
Winner: Daniel Overton & Goulding
Highly commended: Potter IP
Legal Personnel Employer of Choice (51-100 Employees)
Winner: Anthony Harper
Highly commended:
Hesketh Henry
Legal Personnel Employer of Choice (>100 Employees)
Winner: Anderson Lloyd
Highly commended:
Buddle Findlay
Resolution Institute Mediator of the Year
Winner: Sharon Stewart
Highly commended: Carol Powell
Artemis Executive Recruitment Young Private Practice Lawyer of the Year (35 or under)
Winner: Sarah Scott,
Simpson Grierson
Highly commended: Rebecca Rose, Bell Gully
Anthony Harper Young In-house Lawyer of the Year (35 or under)
Winner: Alex Mamo, Fonterra Co-operative Group Ltd
Highly commended: Libby Major, Public Defence Service
Financial Services In-house Team of the Year
Winner: ANZ
Highly commended: New Zealand Superannuation Fund
Russell McVeagh In-house Team of the Year
Winner:
ANZ Legal Group
Highly commended: New Zealand Superannuation Fund
MinterEllisonRuddWatts In-house Lawyer of the Year
Winner: Katherine Anderson, Auckland Council
Highly commended: Katrina Gardiner, ANZ
NZ Lawyer Deal Team of the Year (<100 Employees)
Winner:
Harmos Horton Lusk
Corporate and M&A Team
Highly commended: Mayne Wetherell M&A Team
Deal Team of the Year (>100 Employees)
Winner: Bell Gully Corporate Team
Highly commended: Chapman Tripp Corporate & Commercial Team
M&A Deal of the Year
Sale of Vector Gas
Capital Markets Deal of the Year
Solid Energy voluntary administration
Mid-Market Deal of the Year
Merger to form Coretex and Milford investment
Consumer, Media & Tech Deal of the Year
Spark sale of Telecom Rentals
International Deal of the Year
GE Capital's sale of its consumer finance business
New Zealand Deal of the Year
Solid Energy voluntary administration
Crowe Horwath Managing Partner of the Year (<100 Employees)
Winner: Malcolm Hurley, Anthony Harper
Highly commended: William Antony Holden, DAC Beachcroft New Zealand
Crowe Horwath Managing Partner of the Year (>100 Employees)
Winner: Chris Gordon, Bell Gully
Highly commended: Steve Haszard, Meredith Connell