Anderson Creagh Lai welcomes new addition Adam Jackson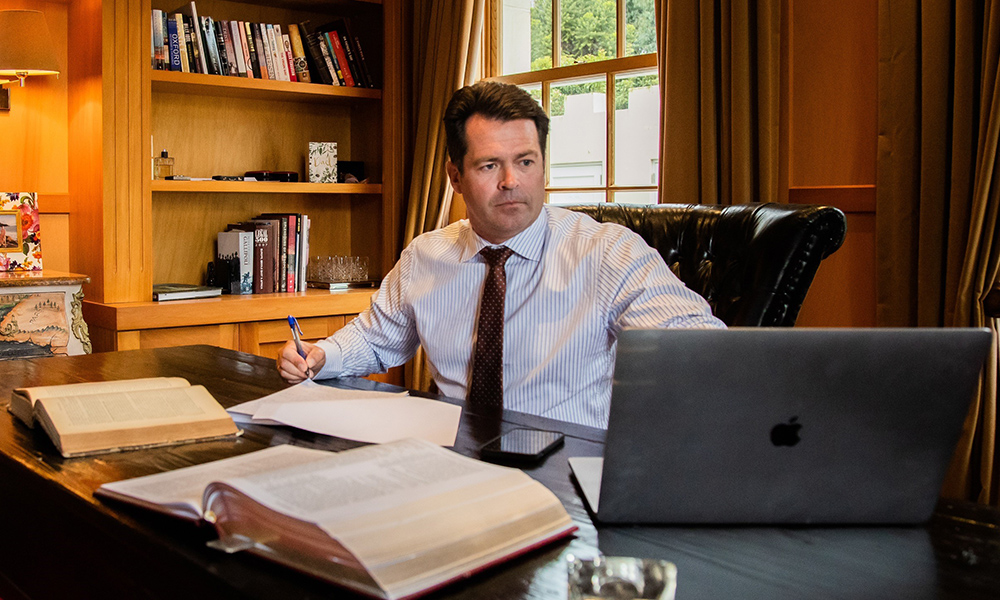 A move between countries is a challenge at the best of times, but during a pandemic it becomes an outright marathon. When we speak, Adam Jackson has just emerged from a two-week quarantine and is in the process of moving into his Christchurch house ("The house is still surrounded by crates and boxes," he says cheerily) after navigating the complexities of re-entering the country from abroad. Jackson sounds remarkably chipper, but one might reasonably ask what possessed him to make such a move under such trying circumstances.
Yet the answer becomes clear within minutes; Jackson speaks with intense enthusiasm and passion for the legal profession and New Zealand, and it's immediately evident that none of this has been done on a whim. He's here to head up a new initiative for Anderson Creagh Lai (ACL) – overseeing their new Christchurch office and working to build better business partnerships domestically between NZ's South and North, as well as internationally between New Zealand, the Middle East and America.
"I actually began talks with a few different firms all the way back in July 2019," says Jackson. "I've spent the past 14 years abroad with a significant amount of that time in the Middle East, some time in Los Angeles and a year or so in Australia, and I thought New Zealand needs to benefit from the road I've been on and how best to align my experience, networks and contacts with New Zealand businesses and clients seeking international experience and exposure."
While there was considerable interest, Jackson concluded that a boutique specialist firm was going to be the best fit for the practice he would build.
"There's a certain style and expertise that's required, and not every firm is capable of that," explains Jackson. "It really is a demanding role, and is an 'always-on' sort of role – the firm very much works for the client, rather than the other way around. Clients always need to have immediate access to their lawyers, and that can be a challenge for those who are looking for a more typical role."
Discussions with ACL proved fruitful; while the initial plan was for Jackson to relocate to Auckland, over a 12-month period the conversation evolved into the firm launching an office in Christchurch with him at the helm.
"I was quite pleased about that," says Jackson. "It's my hometown, I'm proud to be a Cantabrian and so from a life admin perspective it was a real ideal opportunity. From a business perspective it's a great hub to facilitate business within New Zealand and to attract investment into New Zealand while providing a high level of service and expertise to the local market. It is very much a hand-in-glove relationship, a great fit!"
While the physical office is still in the works with an opening scheduled in early 2021, Jackson is very much up and running already. In addition to already being involved in domestic commercial and corporate work, Jackson is establishing a Middle East desk with a view to assist New Zealand businesses in engaging with the region, as well as Middle Eastern businesses and investors who want to engage with New Zealand.
"New Zealand is a competitive market," says Jackson. "Kiwis are an innovative bunch and are always looking for ways to make their businesses more competitive. In particular, we think there's a lot of opportunities and value add for the farming and agricultural businesses as well as startups seeking a global perspective or insight. So the Christchurch office is a way for us to effectively bring an international office to a local market providing a sophisticated boutique offering."
ACL, says Jackson, will be able to facilitate from a legal point of view while also helping prospective investors identify the best people or organisations to connect with.
"We want to help people save money and time, as well as helping them avoid mistakes," explains Jackson. "It's a frontier and growth market, so you can do well in a short space of time – but if you don't do it properly then you can lose your shirt. I've worked alongside large international companies, Royal Family Members and sat across the table on different deals with some pretty interesting people. Sometimes I was out of my depth, but there was no room for doubt – a job had to be done, and I had to get the best possible result for my client, no exceptions. The key is to be multi-dimensional – a one-size-fits-all approach does not work. You have to be light on your feet and not be afraid to switch gears. This is what we are offering New Zealand clients – a multi-dimensional approach. These are challenging times but visionary as well – I'm looking forward to helping Kiwi's be the best they can be with what they have got!"
Looking ahead, Jackson sees investment and business flowing into New Zealand, and he wants ACL to be at the forefront.
"It's only going to escalate," says Jackson. "By being at the front of the queue and having pre-existing networks and contacts, we plan to be first in line to attract that from the Middle East, and of course, aid our clients throughout the whole process to ensure they keep their shirt and pick up a couple of extra shirts during the process as well."