One of the world's biggest firms has just announced a new managing partner. The appointment is heralded to further align the firm's local practice here with its global counterpart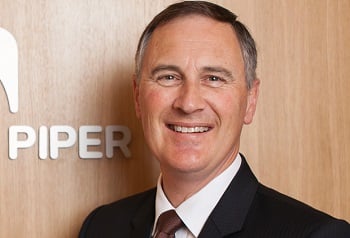 DLA Piper has confirmed the appointment of a new managing partner in Australia to succeed the current managing partner, Andrew Darwin, who is approaching the end of his two-year term.
John Weber, who has been chief executive partner at Minter Ellison for more than five years, will take the reins from November.
The appointment has been welcomed in New Zealand by DLA Piper's Kiwi counterpart, DLA Phillips Fox.
Chairman
Martin Wiseman
told
NZ Lawyer
the firm has worked closely with Darwin over the years, and will continue to do so with Weber.
"We look forward to a close relationship and John's understanding of, and familiarity with, the New Zealand legal market will further enhance the alignment of our local practice with DLA Piper globally," he says.
Part of Weber's strong ties to the New Zealand market come from the Kiwi association of his previous firm, Minter Ellison, which has a significant presence here as Minter Ellison Rudd Watts.
In this way he is "across and supportive" of the pan-Tasman model, says a statement from DLA Piper in Australia.
Current managing partner Darwin will continue as DLA Piper's COO and will return to the UK in 2015.
He says he's "delighted" to welcome Weber on board.
The new managing partner's experience in leading one of Asia Pacific's largest firms, alongside his enthusiasm and dedication to clients, makes his appointment a great fit for DLA Piper, says Darwin.
"Our Australian business has made significant progress over the past couple of years, as we have more closely aligned our local practice with the global firm. John joins us at an important time, as we continue to build our capability in Australia and our ability to provide an ever more unified and seamless experience for our clients, both domestic and international."
The firm is positioning Australia as a key component of its Asia Pacific and integrated global offerings for clients, he says.
Weber will commence on 1 November 2014, and will work closely with Darwin as he transitions into the role.