Lloyd Kavanagh, a member of the firm's board since 2010, takes on the role of Chair in addition to his corporate and financial services practice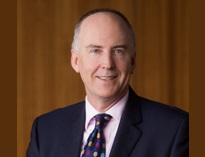 A new chairman will helm
MinterEllisonRuddWatts
' Board effective 1 January 2017.
Lloyd Kavanagh
, a senior partner in the firm's banking and financial services division, has been elected chair of the firm.
"I am delighted to have the support of my colleagues to take on this leadership role. The firm is in its best position ever, having cemented itself in the top tier of New Zealand law firms," says Kavanagh of the appointment.
Kavanagh takes on the role of Chair in addition to his existing practice specialising in governance, financial services and funds management, helping clients with a wide range of corporate and financial services issues. He has served on the firm's board since 2010.
The veteran lawyer who specialises in corporate governance, financial services, funds and asset management, insurance advisory, regulatory and governance, and super annuation says that the firm must continue to embrace new ways of offering legal services and innovate in how things are done.
He noted that to achieve the firm's vision of being the best law firm in the country, it must build on its people.
"I am looking forward to working with our Chief Executive,
Mike Schubert
, and I am confident we will deliver the firm's vision with the support of our people," he says.
"I would also like to take this opportunity to thank
Cathy Quinn
for her fantastic job as chair over the past 8 years. The firm is much stronger, more successful and well positioned for the next phase of growth thanks to Cathy's leadership. Cathy remains committed to the success of our firm and we are grateful for her extraordinary contribution," he adds.
Cathy Quinn, who will continue to lead the firm's M&A and private equity team as well as contribute in her external roles on the Board of New Zealand's Treasury and the New Zealand China Council, says the firm is in good hands with Kavanagh.
"I could not think of anyone better than Lloyd to take over as chair upon my retirement on 31 December 2016. Lloyd is a terrific lawyer and he has built our market leading financial services practice from scratch over the past 8 years," she says.
"He embodies our values and demonstrates his commitment to our firm's mantra We Listen, We Care and We Deliver both to our clients and to our people. I am confident that the firm will continue to go from strength to strength under Lloyd's leadership and look forward to supporting Lloyd in his new role," she adds.
Related stories:
New Zealand Law Awards: 2016 winners revealed
National law firm Chair to step down