A survey has revealed that an overwhelming number of legal professionals use their mobiles to perform sensitive work tasks, causing a minefield of issues as a consequence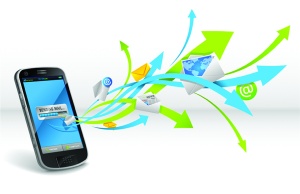 Mobile devices are more popular than ever among the legal profession, with a recent survey showing an overwhelming 80% of lawyers use their mobiles for work.
The LexisNexis Pacific Mobility Survey spanned 440 lawyers across New Zealand and Australia and aimed to uncover technological integration, trends and pitfalls within the profession.
And despite the fact the mobile devices are reengineering the way that lawyers do business, the survey showed that 70% of lawyers using these devices in private practice and commerce in Australia and New Zealand are not aware of a device management policy in their organisation.
LexisNexis Pacific's COO Dr Marc Peter says that although it's obvious that mobiles are delivering time and productivity gains for the profession, there are significant risks associated with using them too.
"Yes, they enable lawyers to be more responsive to clients, more efficient at daily tasks and generally more productive, but if they fall into the wrong hands they can be catastrophic for an individual, their organisation or both," he says.
"As is the case with more traditional forms of information, information on mobile devices has to be secured and 'locked' to protect users from a broad range of risks including cyber-attacks. The reality is once information falls into the wrong hands users have absolutely no control as to where it will end up or how it will be used."
The survey also identified that password protecting and locking devices were rated more important to both lawyers and management than the ability to access files remotely or work offline, which suggests that lawyers are aware about the risks that come with using mobile devices.
The biggest pain points are maintaining security and standards followed by integrating devices and systems, associated costs, staff capability and training, and maintenance and support of the devices.
Mobile devices are used to read emails, schedule calendars, read and review documents, drafting and to maintain awareness of legal or industry news (mostly via social media), the survey shows.
The top five mobile apps that were on the wish list include: a timesheet, database with offline and online synching, MS office for iOS, legislation and cases, and a dictation app.
Of those who don't use a mobile device for work, the main reasons are that they don't own mobile technology (30%), they are not supported by work policy (26%), they don't find it relevant for work (25%), or they are unaware of how to use it for work (14%).
New Zealand is ahead of Australia in its mobility use across large, mid and small law firms but Australia rates higher for Government legal and non-legal use.