Apparently, a District Court judge can do that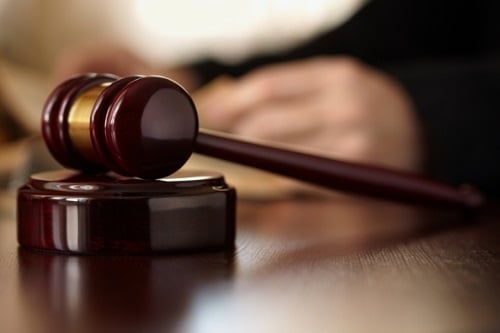 The cold has bothered a Minnesota judge so much that he has issued a restraining order against more snow in the US state.
Judge Kevin Burke of the District Court in Hennepin county ordered "Minnesota Meteorologists, Old Man Winter, and Mr. Snow" on 7 March to stop "permitting any more snowfall this winter" in certain areas in the state, especially within Hennepin county.
"This does not prohibit the defendants from continuing their exploits in Wisconsin, Iowa, South Dakota, and North Dakota," he said.
Burke said that the plaintiffs were citizens of Minnesota, who were represented by lawyers from the law firm of "Sue, Grabit, and Run."
The order was issued before the weekend, when the National Weather Service predicted a "major winter storm" was likely to hit the Twin-Cities area. St. Paul and Minneapolis declared snow emergencies over the weekend, when the highest snow total in the area was reported to be 7.5 inches. The cities of Herman and Pelican Rapids recorded the highest totals, which were 15 inches.
"This order tests the limits of judicial authority. But it is not a reflexive or petulant act by a frustrated judge. That would be entirely inappropriate. This order is issued because of Article I Section 8 of the Minnesota Constitution, states in relevant part, 'Every person is entitled to a certain remedy in the laws for all injuries or wrongs which he may receive…'" Burke wrote.
The judge also said that the request satisfied the five factors judges must consider when deciding on an injunction, as laid out in US case law.
The first factor, which considers the nature and relationship of the parties, is established since Minnesotans have had a good relationship with the defendants, Burke said. There comes a point, however, when trust between the parties is ruptured. He said that the defendants have a fiduciary duty "not to overdo it."
The second factor, which is the balance of harm between the parties, "is heavily weighted in favour of the plaintiffs," he said.
The third factor, which is the likelihood of success on the merits, is also satisfied because "no jury is going to find in favour of the defendants absent a change of venue of this case to Arizona or Florida."
The fourth factor, which explores public policy considerations, is the "most troubling aspect" of the injunction as some will question the authority of the court. "It is plausible that this Court will be seen as an out of control judicial activist," Burke said, but added that the order is issued "because there is compelling evidence in the record that Minnesota Meteorologists have conspired with the other Defendants to increase television and radio ratings."
"Who, for example, would watch the weather in Hawaii where it is always nice?" he said.
Burke did not explain how the fifth factor, which is about administrative burden involving judicial supervision and enforcement, was satisfied by the request for the injunction.