A crooked police prosecutor has been struck down from the roll of barristers and solicitors of the High Court of New Zealand following convictions on methamphetamine charges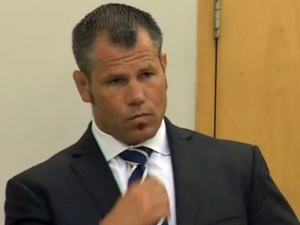 The New Zealand Lawyers and Conveyancers Disciplinary Tribunal has struck Timothy John Russell Sarah off the roll of barristers and solicitors of the
High Court of New Zealand
following convictions on methamphetamine charges.
Sarah was sentenced to four years' imprisonment in 2013 following his guilty pleas and convictions on three charges of supplying methamphetamine, one charge of possession of methamphetamine for supply and one charge of dishonestly accessing the Police National Intelligence Application and thereby obtaining confidential information.
The Tribunal found the charge against Sarah proven. The charge was brought by the
New Zealand Law Society
and alleged that his convictions punishable by imprisonment reflected on his fitness to practise and tended to bring the legal profession into disrepute.
"There was really only one outcome in this matter," says New Zealand Law Society president, Chris Moore. "There is no place in the legal profession for someone who has been found guilty of these crimes."
Sarah's lawyer, Ron Mansfield, submitted to the Court of Appeal in September last year that the four-year sentence was "manifestly excessive".
Mansfield argued his client's sentence could be converted to three months home detention, having taken into account time already served in prison, but the presiding judges disagreed.
According to Fairfax reports, they agreed with Justice Kit Toogood, who said the fact Sarah was working as a police prosecutor while offending was "breathtaking in its hypocrisy and cynicism".
Accessing the police computer system more than 80 times was deemed to be the most serious offending, with Sarah having garnered restricted information from the database, which he then passed on to drug-dealing contacts.
The crimes took place between 2010 and mid-2011 and were uncovered as a resulted of Operation Ark – a wider police investigation resulting in multiple arrests.