Alice Kim was spurred to know more about NZ's legal system to adapt and protect herself as a South Korean immigrant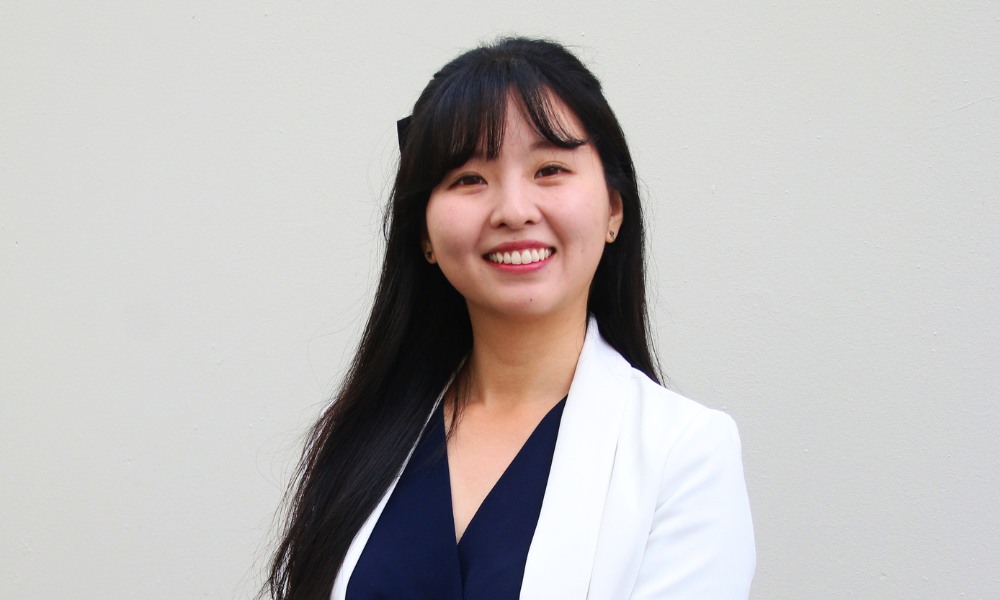 Given her natural way with kids and happy-go-lucky personality, Alice Kim was initially set on the path to becoming a teacher. But personally living through the Christchurch earthquake sparked in her an interest in the law and the rights of others.
Moreover, she was inspired to know more about New Zealand's legal system so that she could adapt and protect herself – as well as her loved ones – as an immigrant from South Korea. Kim went on to take compliance-focused roles with Deloitte and Simpson Grierson before coming on board as a solicitor within Davenports Law's trusts, commercial and property.
In this interview, Kim talks about the exodus of young lawyers overseas, becoming a first-time mum, and helping to increase the visibility of Asian women lawyers in the country through NZ Asian Women Lawyers.
What made you choose a career in law, and what's your favourite part of the job?
When I was young, I aspired to become a teacher. I have always had a natural ability to connect with children, and my cheerful, happy-go-lucky personality seemed to be a good fit for the role. However after personally experiencing the Christchurch earthquake, my curiosity about the law and rights for others was sparked, which eventually led to a decision to change my career into something I considered to have more purpose, and be sustainable long term.
I have a deep respect for rules and regulations, and as someone who values clear and concrete answers, a career in law, especially compliance, was a natural fit for me. Additionally, my ability to maintain confidentiality made me well-suited for the level of discretion that is essential in the legal profession.
As an immigrant from South Korea, I was driven to become knowledgeable about my rights and the legal system of New Zealand in order to adapt and protect myself and those that I cared for.
What I love most about my job is the constant chance to learn. Every day is unique and there are always new challenges presented, so I get input and learn from everyone around me – colleagues and clients.
What has been the biggest lesson you learned in the past year and what advice can you give fellow lawyers about it?
There are learnings to be gained from every person and situation. While our directors are a valuable source of knowledge and often provide a unique perspective, our senior legal executives and personal assistants are equally knowledgeable in their respective areas of expertise. I'm fortunate I work in an environment that encourages collaboration and helping each other grow.
As a result, I would encourage my fellow lawyers not only to seek advice from those above them but also to remain open to the wealth of knowledge available from colleagues at all levels. By keeping an open mind, we can learn from everyone and everything around us. At times, it is the little things like the daily quotes of wisdom in my diary which might provide me with mindset and positive energy to start my day.
What are the challenges you expect in your practice, and in the business of law in general, going forward? What challenges are particularly pressing in the country's legal industry?
With borders now open and the multitude of enticing opportunities and higher salaries abroad, we are experiencing an exodus of young lawyers overseas. As a legal profession we all need to look at how we can retain the interest of our bright young lawyers and encourage them to grow their careers within New Zealand or find ways to entice those who have gained experience abroad, to return.
What are you looking forward to the most in the coming year?
On a work front I am looking forward to our firm's external seminars and networking events. These opportunities provide a platform to showcase and promote our firm's culture and values.
On a personal front, my partner Nick and I are excited to welcome a new addition to our family in October and embark on our journey as first-time parents! This will definitely be a whole new area of growth and learning for me.
What is going on at NZ Asian Lawyers? Can you tell us more about your role and the work that you do with the organisation?
Many exciting events are planned and on the way at NZ Asian Women Lawyers. I am part of the sub-committee who help organise these events and keep our peers and colleagues informed of what is happening.
Speaking of which, we have our next speaker event on Tuesday, 23 May hosted at Simpson Grierson. Judge Belinda Sellars KC will share her journey from private criminal practice right through to her current role as a judge. We are enthusiastic about organising and executing exceptional speaker events and networking opportunities to unite Asian women lawyers in New Zealand. The committee will continue to work to raise awareness and engagement within this field.