A judge has been sacked after instructing a police officer to zap a defendant with 50,000 volts of electricity to keep him quiet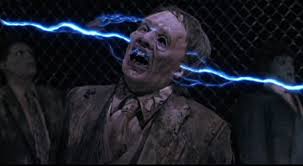 A US judge has been stood down after becoming so annoyed with a defendant that he instructed a police officer to electro-shock him with 50,000 volts to shut him up.

The incident occurred at Charles County Circuit Court in the Maryland town of La Plata, where Judge Robert Nalley (aptly nicknamed 'Guantanamo Bob') was presiding.

The Libertarian Republic reports that the Judge ordered that Delvon King, who was on trial for possession of weapons charges, be shocked via an ankle "stun-cuff".

Unlike our electronic tagging that simply monitors the bearer's movements, these US ankle bracelets control them through a forceful zap when they act up.

Defendant King was being particularly annoying: He'd insisted on acting for himself, had absconded earlier in the proceedings, and was "citing case law that didn't apply to his case".

He apparently believed himself to be a sovereign citizen and rejected that he is not allowed to own a weapon.

In retaliation, it was reported that without warning Judge Nalley roared, "Do it… Use it…", to which the deputy pushed a button on the stun-cuff.

The first two attempts failed however, and it was on the third try that 50,000 volts let rip into King's body, causing him to scream in agony and fall to the floor.

The court transcript actually reads: "(Defendant screams)", and according Legal Cheek the judge then asked King if he was ok and allowed him to sit throughout the remainder of the trial.

In response to the incident, Maryland State public defender Paul DeWolfe called for Judge Nalley to be fired.

"For a judge to inflict physical pain for the sole purpose of silencing an individual is unacceptable. In a court of law, it is the judge's responsibility to protect the rights of those involved in the process, not to violate them," he said.

This isn't the first time Judge Nalley has taken the law into his own hands: Four years ago he was reportedly suspended from the bench without pay for deflating the tires of a car that had nabbed his parking spot outside the courthouse.