Some would say that one Kiwi lawyer has the most coveted role in the New Zealand legal profession: We find out why his job is probably the next best thing to being an All Black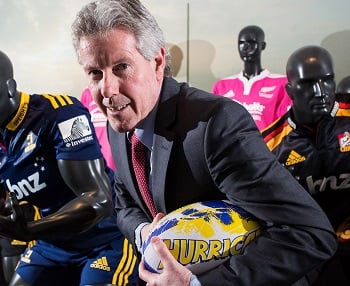 Keith Binnie might just have the most coveted role in the New Zealand legal profession. As general counsel at New Zealand Rugby Union (NZRU), Binnie's job is probably the next best thing to actually being an All Black.
In almost nine years at the NZRU, he has worked on a diverse range of matters, including the legal issues around hosting the Rugby World Cup, and how New Zealand intellectual property law applies to the haka "Ka Mate".
There is no such thing as a typical day for Binnie's agile legal team, which consists of three lawyers and an additional two solicitors working on the Player Services Team, predominantly on employment law issues. His is a wide-ranging role that touches on everything from contracting and IP, to governance work, drafting regulations and working on broadcasting deals.
With the NZRU's brands being a major driver of revenue for the business, IP matters make up a significant part of Binnie's role.
"The IP portfolio focuses on the All Blacks brand and logos – that's what generates somewhere between 40% and 50% of our revenue," he says. "It's a combination of test match income, broadcasting revenue from All Blacks tests, licensed products and sponsorship associated with the All Blacks."
A key challenge of this work is that "nearly everybody in New Zealand wants to rip off the All Blacks brand", Binnie says. "I could employ a person full-time on IP compliance."
"It's one of those things where you do have to strike a bit of a balance … a lot of people out there who probably, if you gave them the benefit of the doubt, aren't trying to misuse the brand or create an impression of an association – they're doing it because they're fans and they like to be supporters."
In addition to IP, Binnie's team is often kept busy drafting regulations across a range of issues, such as eligibility, player movement, contracting, doping, disciplinary, health and safety, and the recently introduced anti-corruption and betting regulations. Then there's integrity-related work, such as developing policies around doping, illicit drugs, supplement use and prescription medication.
Contracting is another major aspect of the NZRU's legal work. "There are literally hundreds of contracts that require negotiation, drafting, interpretation," he says. Binnie also undertakes NZRU governance and board related work – everything from managing the AGM and board papers to acting as company secretary.
Before making the switch to in-house, Binnie was a partner at
Simpson Grierson
, initially starting as a one-year maternity leave replacement, which turned into 13 years. Following on from his previous employment law and industrial relations work for the New Zealand Association of Waterfront Employers and the Wellington Employers' Association (as it was then known), Binnie headed up
Simpson Grierson
's employment, health and safety practice in Wellington, where his clients included Westpac, IBM, BNZ, port companies and local governments.
It was also at Simpson Grierson that Binnie first encountered sports law. "There's a huge debate amongst the sports law and non-sports law fraternities as to whether there's a body of law that can properly be termed sports law," he says.
During this time Binnie acted for a range of national sporting organisations, including swimming, softball, table tennis, cricket, hockey and rugby. "Simpson Grierson were the NZRU's lawyers from the late '90s, so that was really when I got involved in the whole regulatory, employment, health and safety, administrative law side of things," he says.
In 2005, a rare opportunity to join the NZRU's legal team became available and Binnie made the decision to move in-house.
"Of all the work I did, the sports law was the thing that I enjoyed the most," he says. "There's no other sports organisation in New Zealand that has full-time lawyers working for it, so if I was going to make the jump into sports law as a career change, this was going to be my one opportunity," he recalls. "It was the right time and the right opportunity to come on board and try something new."
The variety of work was another factor that drew Binnie to the role, but he admits that the transition wasn't without its challenges.
"I thought I knew a fair bit about rugby and the NZRU, but when I got here I realised I knew virtually nothing. It was a huge shock to go from being a specialist to being a GP and realising just how complicated this business is and how much I had to learn and how complicated the business of rugby is from a legal perspective," he says.
While there are some specific areas, such as competition law issues, particularly around selling broadcasting rights and implementing salary caps, where external advisers are always briefed, overall Binnie says it's increasingly rare for the NZRU to brief a law firm. Given the experience and legal talent within the NZRU's ranks, "we've basically taken the decision to resource a lot of our work internally", he says.
Intellectual property is another area in which firms are sometimes engaged. "We still use external lawyers for a lot of the IP work because most of it is done overseas. We've got trademarks in pretty much every country in the world, so we use an IP specialist firm for that work."
When considering which firms to work with, Binnie says value for money, fit and institutional knowledge are key considerations, as is availability of partners. "The main thing I've found in this business is that we virtually always need a partner, whether that's to sign off a piece of advice, or to appear in front of the board, or attend a meeting or go to court."
Binnie says it's important for firms pitching for in-house work to make it clear that the partners will be the people who will be working on the files and who will be available and accountable for the work. "Rightly or wrongly, we've taken the view that that's what we expect from law firms."
He says the most satisfying part of his role has been contributing to the success of the NZRU:
"There isn't an area of the business that legal doesn't touch on, and the organisation has been successful on and off the pitch, and I like to think that the legal team has played a significant role in that."
This article appeared in
New Zealand Lawyer's
latest magazine edition 6.3. Subscribe for more articles and detailed legal features.

Like us on Facebook and never miss an update!