New Zealand Law Society president, Chris Moore, has this morning responded to the death of celebrated jurist Sir Owen Woodhouse, saying his "compassion and generous approach to life was always present"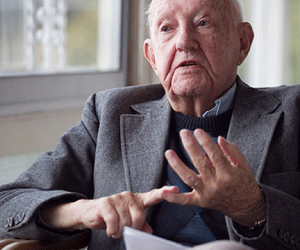 New Zealand has lost one of its greatest jurists with the death of Sir Owen Woodhouse,
New Zealand Law Society
President Chris Moore said today.
"Sir Owen was best known as the architect of our world-leading no fault accident compensation system. Among the legal profession he was equally renowned for his reforming and progressive approach to the development of New Zealand jurisprudence," Moore said.
"His compassion and generous approach to life was always present. Many law students will recall his amusing and succinct judgment where he allowed an appeal by a young man convicted of disorderly behaviour after wading in an ornamental duck pond at a Napier pop festival.
"Sir Owen noted that the ducks seemed unperturbed and 'remained on the surface of the water with scarcely an increase in their rate of stroke'."
After retiring as president of the Court of Appeal in 1986, Sir Woodhouse continued with a leading role in the New Zealand justice system. He was the first president of the New Zealand Law Commission and Moore believes his leadership set much of the focus which this important institution follows today.
"Lawyers around New Zealand are saddened at the passing of a great New Zealander and a man who has helped improve the quality of life for all New Zealanders."
Parliament last night held a moment's silence to mark Sir Woodhouse's death and debate on the Vulnerable Children Bill was interrupted to recognise his passing when a motion was put by leave by former ACC Minister Ruth Dyson.
Sir Woodhouse was born in Napier and graduated from the
University of Auckland
with an LL.B. in 1940. During the WWII he served as a Lieutenant Commander in the Royal New Zealand Naval Volunteer Reserve and was then seconded to Royal Navy working as liaison officer with Yugoslav Partisan.
He was appointed a Judge of the New Zealand Supreme Court in 1961, a Judge of the New Zealand Court of Appeal in 1974 and was president of the Court of Appeal from 1981 to 1986. He was president of the Law Commission from 1986 to 1991 and was made a Privy Counsellor and member of the Judicial Committee of the Privy Council in 1974.
Sir Woodhouse was the Chairman of the Royal Commission on Accident Compensation from 1966 to 1967, which produced the Woodhouse Report recommending a "no-fault" accident compensation scheme. The Report is widely regarded as one of the most significant legal reforms of this generation.