Lawyer and tech expert discusses the benefits and risks that GenAI could bring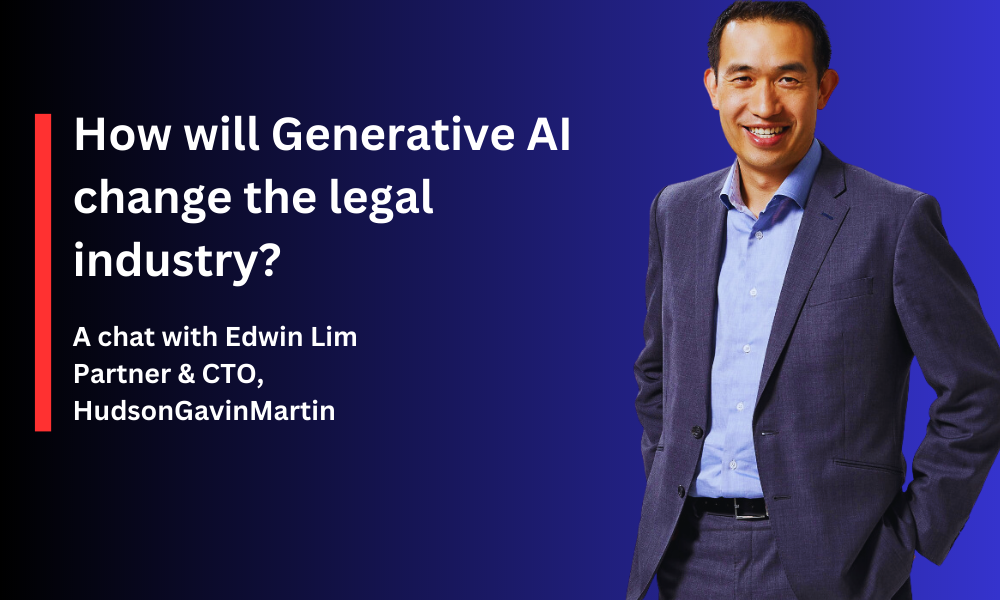 Generative AI (GenAI) tools like ChatGPT have taken the world by storm, and the excitement has reached the legal industry. While the world tentatively dips its toes into the possibilities of GenAI, 84% of lawyers already believe that it will increase their efficiency.
But with GenAI poised to speed up tasks such as research and writing, what role does the modern lawyer play? In 100 years, will there be a need for human lawyers at all?
The importance of the 'human factor'
Hudson Gavin Martin partner and technology fanatic Edwin Lim doesn't think we'll be saying goodbye to the legal industry anytime soon. According to Lim, there is a lot of interest and curiosity around GenAI among lawyers – however, using it is all about drawing inspiration rather than delegating to it.
"There always needs to be a human behind any advice that goes out," Lim tells NZ Lawyer.
"We know that GenAI tools aren't always accurate. You also can't discount the value of experience. If I use GenAI tools to help draft a contract for example, I would still look over it and identify things that aren't correct, aren't relevant or just aren't in my client's best interests – and that's simply due to my previous experience. You can't cut out the human in this process without the quality of work suffering."
Lim notes that similar to seeing a doctor, the human interaction between client and lawyer simply can't be replaced. Clients want to hear firsthand about a lawyer's perspective and draw upon their experiences, and while new technology may help them arrive at their destination quicker, the need for the human factor will always be there.
"Lawyers want to see their clients succeed – they have a human investment in the outcome that can't be replicated by any machine", Lim says.
Still, this doesn't mean that the legal industry shouldn't wholeheartedly embrace new tools when they emerge. Lim highlights that while other industries are developing a constant stream of new tools and platforms, the legal industry has been somewhat stagnant in this area – and this needs to change.
"All businesses need to know how to use technology as an enabler, and it is great to see legal tech companies like LexisNexis developing deep AI tech that will assist with the practice of law" Lim says.
"The legal profession can be very traditional, and a lot of tasks are research-based and generate a lot of text. I'd really like to see the legal industry step it up when it comes to developing and adopting new tools."
Introducing GenAI to law firms: the challenges
When implementing GenAI, Lim says there are several issues for lawyers to think about. These include privacy and confidentiality, and also transparency with clients. There is also a discussion around costs, and whether delegating research and writing to GenAI means that cost savings can be passed on to clients.
Lim notes that having a GenAI policy in place is an essential starting point. This should outline how you use GenAI, what information is 'fed' into the tool, how to ensure your data is kept safe and secure, and when you should inform clients about the tools you use. But while there are enormous improvements in efficiency to be gained, he questions whether GenAI can push lawyer costs significantly down without compromising on quality – at least for the time being.
"When you're thinking about cost, clients will understand that a lot of work product is our intellectual property," Lim explains.
"Law firms have spent many years creating contracts and giving advice, and then refining and pooling all of their knowledge. There's often a lot at stake for clients when they engage us and we share that risk with them, so there is a lot of value attached to our advice – and there will always be discussions on how to calculate that value. Time spent is definitely an important consideration, but I think clients understand that it's not the only factor. We owe it to our clients to work as efficiently as possible by taking advantage of different tools. But we don't want it to be a race to the bottom where the quality of legal work suffers because we're cutting out human lawyers inappropriately just to drive costs down."
Ultimately, Lim says he wants lawyers to embrace GenAI responsibly and the possibilities that come with it. However, this should also come with precautions – particularly around understanding the risks of using GenAI, such as those relating to the use of personal and confidential information, security, and potential IP infringement.
Lim notes that cyber security incidents are one of the greatest threats to law firms today, so if you're bringing a new platform or tool on board, do your due diligence on the vendor and tool. He says you should always read the terms and conditions to understand how the vendor protects your data and whether they can use your data to train the AI system. He says you should avoid putting personal or confidential information into public AI systems, and be mindful of how you use information generated by these systems to avoid IP infringement or incorrect advice.
"Having a policy in place is definitely something firms should have, because this is such a new development," he says.
"You should consider defining how you'll use GenAI, making sure there's always a human reviewing the work, and being transparent with your clients around your use of GenAI.
"In my view GenAI is as momentous as the evolution of the internet itself. Overall, I think my message is embrace it, don't be scared of it – but know what the limitations and risks are."
Edwin Lim, Partner, Hudson Gavin Martin
Edwin Lim is a partner at Hudson Gavin Martin, New Zealand's leading technology law firm. Ed's main areas of practice are technology and IP development, commercialisation, protection and procurement. Ed has worked with businesses across various industry sectors (both customers and vendors) and has numerous clients offering technology solutions. In addition to his law degree, he has a degree majoring in Information Systems, so understands the technical, business and legal issues involved in technology projects. Ed is also the CTO at Hudson Gavin Martin where he is responsible for the firm's technology infrastructure, strategy and roadmap. Passionate about giving back to the industry, Ed holds and has held board positions for the NZ Software Association, NZ Game Developers Association, and ADLS Technology Law Committee. Ed is also a judge for the NZ Hi-Tech awards.
What is Legal AI and How Does it Work?
AI Myths & Legends Demystified
13 September, 12.30pm
This webinar by LexisNexis offers a comprehensive overview of AI and its specific applications in the legal industry. It helps legal professionals grasp the fundamentals of AI technology and its potential impact on legal processes, answer and debunk common myths and misconceptions surrounding AI in the legal domain. By clarifying misconceptions, legal professionals can make more informed decisions about implementing AI solutions in their practice