A keynote speaker at an innovative forum explains how he managed to turn a legal business about to hit rock bottom into a profitable beast with 35% turnover growth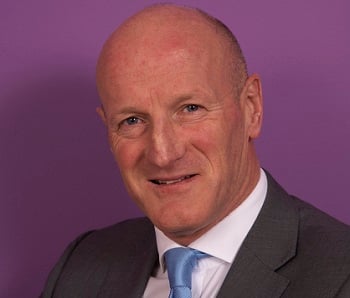 When Simon McCrum joined Oxford-based Darbys as managing partner in 2007, he had no idea about how much trouble the firm was already in.
Until then, the business had been relying on figures and methods that made everything look okay, when it was far from the truth. And then the financial crisis hit.
Most of the teams were operating at a loss and a combination of issues meant that growth was almost non-existent.
McCrum knew that something needed to be done urgently.
He had started out his career as a commercial litigation solicitor in Manchester, and soon discovered that the thing he enjoyed most was the client relationships and client management.
He moved firms three times to secure a role that allowed him to focus on that.
"I was made a non-fee earning equity partner at Top 100 law firm Pannone. Within that firm I was marketing partner, and director of business development. I was then made head of litigation – my first management role - and then when that went well I was asked to be head of construction, and then head of crime & regulatory," he tells
NZ Lawyer.
"I developed aspirations to be the head of a firm but it was clear there would be no opportunity for that at Pannone for a long time."
But while he was there, McCrum had been responsible for setting up a network of smaller law firms called Connect2Law, which referred any work they couldn't deal with to Pannone in return for a range of supports and benefits.
The network quickly became a huge success and the idea was franchised to other large law firms around the UK.
"One of those was Darbys, in Oxfordshire. It was through working with them on Connect2Law that I got to know them and that led to them approaching me to ask if I wanted to lead their firm. It was exactly what I was looking for," McCrum says.
But when he accepted the role of managing partner he had absolutely no idea - indeed neither did the firm itself - that it was doing far from well.
After breaking down figures bit by bit to uncover the uncomfortable truth, McCrum had no choice but to try and turn the firm around.
To begin with, he faced major challenges in getting anyone to believe that anything was
actually
wrong.
"And then getting people who were very 'stuck in their ways' to change up a gear and to do things differently… And trying to get many people whose performance was not good enough to up their game," he says.
McCrum implemented a series of simple changes that slowly began to make all the difference.
He started off by introducing transparency into the system and separated out every single part of the business so he could see how each was doing and "what was hiding where".
The next step was to share that information with the entire firm.
"It was then that people started believing that change was needed. I also addressed various people issues that had not been addressed. That let people know that things were serious and that I was serious. I believe it let our good and great people know they were in the right place," he says.
McCrum admits that part of implementing significant change also meant he had to take the hard decisions that had been avoided in the past. He had to make sure every team was profitable, that the structure was right and that the people within the structure were right.
Of particular importance was the middle management and team leader level, he says.
"This level makes or breaks a firm. I brought new people up to that level, new people into that level, and moved some people out of that level. I involved that middle management in the detail of their team's business and the business as a whole."
McCrum insists that bringing in business expertise from outside law firms is vital to their success in the modern world. Traditionally, the owners have been both the lawyers and the business drivers, floundering to keep the gears of the firm grinding while also dealing with client caseloads and fee targets.
But there is simply no way you can do both, and especially not now that the business and legal sector are "so changed and brutal", he says.
By 2013, the managing partner had raised Darbys from the dead.
Legal Practice Management
magazine reported that from a turnover of about $13.7 million in 2006/7, the figure jumped to a staggering $24.8 million in 2013, with all 20 teams making a profit under McCrum's leadership.
Darbys achieved turnover growth of 35% in 2012, and again in 2013 - all during a time when the rest of the SME legal market was struggling, with some surveys indicating segment growth at just 4%.
But McCrum says what he did isn't rocket science. On the contrary, he reckons it's a realistic proposition for many firms.
"I had turned around struggling teams before – and some of them were big teams. There, I had used a simple formula: Great people and great middle management work wonders. Get that in place and the rest will follow," he says. "Doing that with honesty and transparency and by sharing information had served me well at team level and it did the same at firm level. All that and simply hard work, and doing things instead of just talking about them."
McCrum will share more of his story as a keynote speaker at an innovative Australasian event, now in its sixth year.
Future Firm Forum 2014 is taking place at Millbrook resort near Queenstown in November and features a variety of speakers from New Zealand, Australia and further abroad.
The forum provides an opportunity for law firm leaders to learn from world-class speakers about the latest developments affecting the legal services industry.
Convenor Simon Tupman launched the forum in 2008 in response to what he perceived as a gap of information sharing within the industry.
"Since 1992 I'd been involved in the business side of law, helping firms stay ahead of the curve, prepare for the future and run practices more like businesses, so I thought there was scope in creating something like this," he says.
"What the difference is with this forum [in contrast to others] is that we have aimed to create a level of engagement between the speakers and the guests."
This is achieved by a modest attendance list and relaxed dinners, lunches and other events throughout the forum that allow the speakers and guests to mingle and network.
Past delegates have hailed Future Firm Forum as "the best event of its kind".
"The format of the forum is designed to present inspiration and ideas through stories," says Tupman.
He nabbed McCrum as a keynote speaker after reading about his story in a UK magazine. He was so impressed, he contacted him right away. Evidently, the managing partner of Darbys was delighted to oblige.
Other speakers will include Sydney-based Bronwyn Pott, the CEO of Swaab and past president of ALPMA; and Christine Grice, the e
xecutive director of the
New Zealand Law Society
and former Chair of Radio New Zealand and of Te Pou, the National Centre of Mental Health Research.
"There will be a smorgasbord there. I've gone for a fairly broad brush," says Tupman. "I think it's a must attend event for those in law firms who are concerned about the future of their business and want some great ideas and inspiration to drive it forward."
Does he think there's an optimistic future for private practice?
"There are plenty of opportunities for law firm businesses to get a slice of the pie if they are prepared to take on more measured risk and be innovative."
Photos: L - Simon McCrum, R - Simon Tupman