NZGIF head of legal Ian McKenzie discusses the influence he believes lawyers have on their clients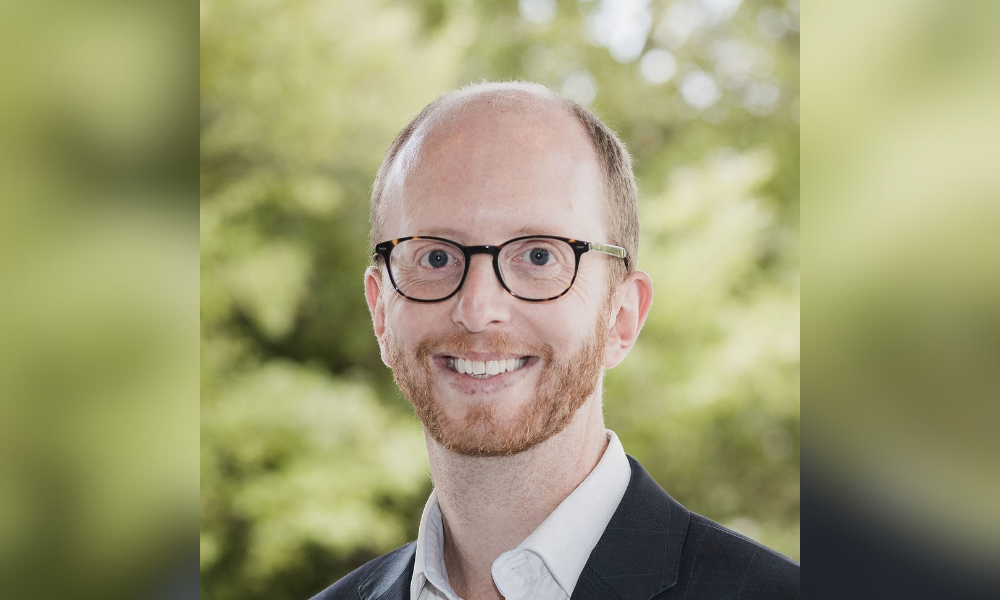 As an in-house lawyer, Ian McKenzie loves being in "the thick of action" The New Zealand Green Investment Finance (NZGIF) head of legal started his career in private practice, and going in-house, he says, has been very different, but it has reinvigorated his enjoyment of law as a livelihood.
McKenzie joins the judges' panel this year at the upcoming 2023 NZ Law Awards, and he has loved observing the focus on the difference finalists are making to society. He believes that lawyers can influence their clients to be better, and he'd like to see lawyers and firms seeking social purpose in what they do.
In this interview, McKenzie discusses the major themes of legal excellence he kept in mind as an awards judge, the projects that have made him proud, and why he'd defend "the most guilty" villain in court.
What made you choose a career in law, and what's your favourite part of the job?
As unimaginative as it sounds, growing up my father was a lawyer, so I guess I just considered it to be in the blood. But having decided to study law, I had a university job in a law firm library, which was fantastic. I really enjoyed being part of the law firm environment and made some great friends, so that is what sealed the deal for starting out life in private practice. I stepped away from private practice about six years ago, first to a role inside a law firm management team and then I moved in-house a year or so after that. Life is very different in-house, but it has reinvigorated my enjoyment of law as a career.
My favourite part of the job is the fact that it puts you in the thick of the action for so much of the important work that an organisation is doing. The variety is great and, in my current role in particular, the purpose is really fulfilling. No two days are the same. I might come into the office with a to-do list, but new and interesting things always crop up. I've been very lucky to work in-house at organisations that really value their legal teams, who are seen as important business enablers. And because of that, I've been able to contribute to those organisations far beyond legal advice. That's the real attraction of in-house work for me – if I have an opinion on something that doesn't just relate to the "legals" of a job, I can offer that and have it listened to and valued.
NZGIF is a particularly great place to work – our job is to accelerate investment in Aotearoa's decarbonisation, so a large part of what the legal team does here is help structure, document and execute innovative transactions that are at the cutting edge of climate finance. We have such a broad mandate to do a wide variety of transactions, all of which have the ultimate goal of saving the world. We might be working on an equity investment one day, a project financing the next, and a securitisation or financial product the day after that. There aren't many organisations that offer that sort of variety of transactions (or the opportunity for a lawyer to work across all of them) – I personally can't think of another place that can serve up such a steady diet of innovative and impactful work for a lawyer.
What has been your proudest accomplishment in the last year or so?
I've been really fortunate to help out on some fantastic projects over the last year. For instance, NZGIF recently closed NZGIF Solar Finance, which is a really innovative $170m financing programme for distributed solar developers. That was without question the most complex transaction of my career and being in-house meant that I was intimately involved in every aspect of it. The breadth of work required to complete that transaction was huge and it extended so far beyond the legal documents that the external lawyers were involved in – it really cemented for me the importance of the role of in-house lawyers to be able to help deliver a work programme that large. It was enormously hard work over a very long time, but seeing that come to fruition was immensely rewarding.
I'm also really proud of the initiative NZGIF spearheaded to create the New Zealand Climate Clause Bank, which is a collection of template clauses that aim to improve climate outcomes through contracts. I think it is a really important initiative that can fundamentally change the way businesses go about sustainability and the way lawyers think about their role in that. The project involved getting many of the country's top law firms to come together to improve outcomes for the planet. Seeing all those top lawyers giving of their time to promote the initiative was really humbling and it reinforced for me the difference that we can make as a profession if we put our shoulders to the wheel and work together on really important societal issues.
What are you looking forward to the most in the coming year?
More of the same! I'm lucky enough to have a job that I can't wait to do every day, and we have some other really significant projects that we are hoping to get through in the next year. However, the last couple of years have also been fairly full on, so in the near term, I am looking forward to a break at the end of the year and some time to relax.
If you had to defend a fictional antagonist/villain in court, who would you pick, and why?
Haha, the most guilty one! I've only ever been to court for admission ceremonies, so if you are relying on me to keep you out of jail, you're stuffed. So any villain the whole world would happily see locked up (and who wasn't inclined to make a negligence complaint!!) would be my pick.
What do you think of the current crop of legal talent in New Zealand? What can we expect from them?
There are some really impressive people working in our profession. What has been so fantastic to see in judging the NZ Law Awards has been the number of shortlisted candidates whose nominations have focused on the difference those people are making to society. We are in a privileged position in our profession, and I'd really like to see firms and lawyers continuing to look for social purpose in their work. As trusted advisers to their clients, lawyers are uniquely placed to be able to influence those clients to be better in whatever they are trying to achieve. That's what I'd like to see the top legal talent doing – especially all the up-and-coming lawyers who will be leaders in the profession before long.
What do you think some of the big themes of the year will be in evaluating legal excellence as a judge?
A really big theme for me is innovation. We are living in such a fast-changing world that lawyers need to be keeping pace with that. Whether that be innovation in deal structuring, innovation in how firms deal with their employees, client-focused innovations, or innovation in how in-house teams work within their business, there is a great opportunity (and no shortage of tools) for lawyers to embrace smarter and better ways of working.
Another key area I'm personally interested in is embracing sustainability. Anyone who has spoken to me for more than a few minutes will know how important I think solving the climate crisis is, so submissions that demonstrate a commitment to that goal is what I am looking out for.
What's on the horizon for the profession in the coming year?
It's a really big time for the profession at the moment. There has obviously been the independent review that has recommended some fairly tectonic shifts so I expect that to grab the headlines for the foreseeable future.
Beyond that, climate change will continue to loom large for the profession. There will be new laws and regulations in the area to advise on and the Law Society is putting out guidance for lawyers addressing their obligations in this space. That alone is a pretty big thing to get the head around for many.