A Kiwi law firm has launched a programme that it hopes will channel a group of people that are strikingly under-represented in the legal profession into its ranks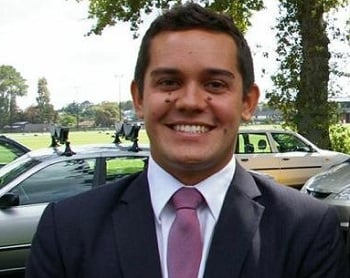 New Zealand law firm Meredith Connell is aiming to increase diversity among the ranks of its talented lawyers by introducing a unique and tailored internship programme for Māori
and Pacific Island law students.
The launch of the programme is all thanks to a trail-blazing young solicitor at the firm, Kingi Snelgar (Ngāpuhi/Ngāi Tahu), who couldn't help but notice the lack of fellow Māori and Pacific faces among his legal professional counterparts in New Zealand.
He approached the partners of his firm Meredith Connell with his concerns, and says they responded immediately and set to work developing an internship programme specifically tailored to talented Māori and Pacific students.
Unlike traditional law firm internships which take place in the school holidays, interns at Meredith Connell will complete paid work at the firm on a part-time, ongoing basis throughout the semester, with the overall goal of becoming a full-time lawyer there at the completion of their studies.
"We know that often Māori and Pacific people have obligations over the summer holidays, whether it's to return home to the Islands or other parts of New Zealand. We wanted a point of difference," says Snelgar.
"The benefit of the programme is that we're really flexible because we know often the students are in their final year. They'll be doing legal work here – not just making coffee. They'll be doing research, making submission, going along to court."
The first in his marae to study law, Snelgar thinks there is a perception among the cultures that university is quite Pākehā or only for very intelligent people. This is misguided, he says.
"I guess my biggest surprise [going to university] was it's not as difficult as you think it's going to be," he told
NZ Lawyer.
"I was lucky enough to go to King's [College] for the later part of my schooling, but even there I used to go past the law school and think it was only a place where really smart people went…but it was actually a great place for me to really engage with some of the issues I saw."
Snelgar, whose first language is Māori, says he's always had a keen interest in politics and the interaction between Māori people and the law, especially during the foreshore and seabed controversy.
He excelled at university, and received a number of awards there including the
University of Auckland
Judge Karina Williams Prize in Law, which is given to the student of Māori descent completing a law degree who has the highest grade point average; and the Deans Academic Excellence Award from the Faculty of Law, which is given to the top 10% of students completing a law degree.
But when Snelgar graduated university and entered the real-life legal world, he was saddened to see a huge underrepresentation of Māori and Pacific Islanders in the profession, especially in criminal law.
"In the Auckland area I think there's only about two or three other Māori defence lawyers," he says. "But from looking around the courtrooms, Māori and Pacific Islanders make up 50% of the prison population. The role of a lawyer is to represent the community and obviously it's really important to have brown people [doing that] too."
Furthermore, there are huge existing and future opportunities for Māori wanting to practice law, especially as Treaty of Waitangi settlements begin to happen, says Snelgar.
Consequently there is going to be a need for far more legal advice, and encouraging Māori people to contribute to that is vital, he says.
"One of the things I feel is that there is an inherent humble attitude [among Māori and Pacific Islanders] and sometimes there is a shyness or a fear or putting themselves out there. It also might be that some of them don't have the same support structure as some of the other [university] applicants."
But thanks to his forward-thinking attitude and great internship idea, Snelgar is kick-starting the change.
The quality of applicants for the Meredith Connell internship programme has been "outstanding", and of the selected four students (out of around 16 applicants), three are Honours students and one is a national mooting champion in Māori, says Snelgar.
At this stage, the firm will be accepting two Māori and Pacific Island students each year on an ongoing basis in an effort to reverse the tide and better represent New Zealand's cultures.
The first two are due to start towards the end of this year.
"It's an ongoing commitment and investment in creating a more diverse workplace and if everything goes smoothly that leads to a full-time position here, which is fantastic, because if I was to go there wouldn't be many brown people left," Snelgar says.
"The partnership acted quickly to put this in place, and I'm quite a junior member of the staff too, so it's a huge positive…I hope other firms will give it a go as well."