Associate Professor Dr Bridgette Toy-Cronin, a leading advocate for access to justice, discusses her journey in promoting the rule of law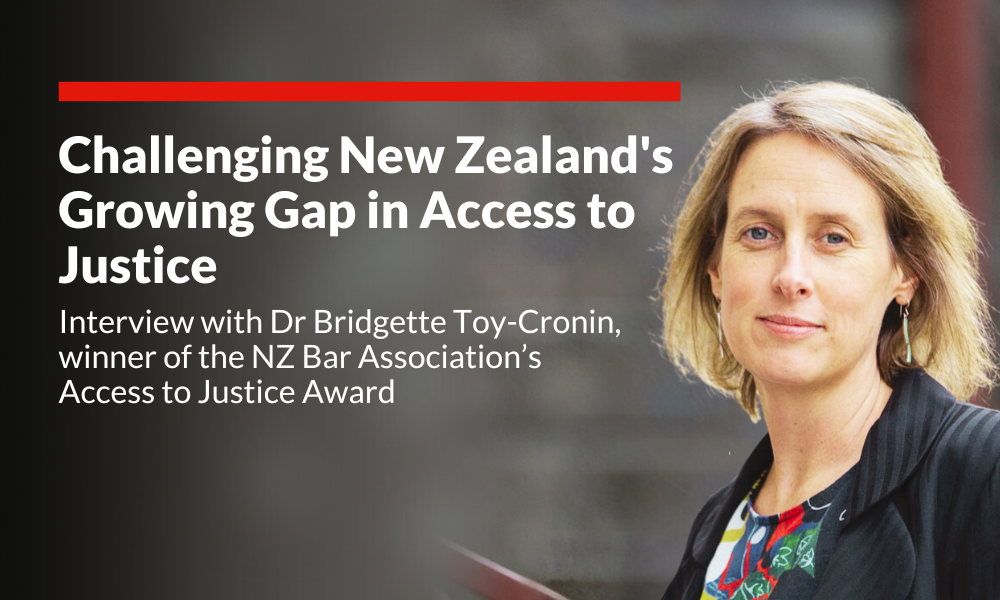 Access to justice is fundamental to upholding the rule of law. However, New Zealand is facing an "increasingly unmet need for civil justice" according to the Rules Committee, which cited unaffordability and "overly complex" procedure in its 2022 review.
On the topic of access to justice, there are few who have made their mark quite as profoundly as Dr Bridgette Toy-Cronin, Associate Professor, Co-director at the Otago Centre for Law and Society and Director at the Civil Justice Centre. Dr Toy-Cronin graduated from the University of Auckland in 2002 with the intention of working in the human rights field. However, after a period of work overseas, she decided to focus on making a difference at home – and that's when she first encountered people struggling to pay for legal services.
Seeing an opportunity to combine her interest in human rights with her experience in civil litigation, Dr Toy-Cronin focused her career on the rule of law and access to justice.
"One of the things about 2023 is that we're living in a really complicated society, and we have to be careful that our institutions and services deliver what people need," Dr Toy-Cronin tells NZ Lawyer.
"That's something for the whole system to provide, not just the legal profession. We need government services to ensure a strong civil society and we need enough education to support people, so that when they encounter a problem, they know where to look and are empowered to do that."
Dr Bridgette Toy-Cronin was nominated for the Access to Justice Award 2023 for her "outstanding and sustained contribution" to advocating for access to justice, particularly for vulnerable communities. The nomination highlighted her dedication to empirically grounded research to help guide debate on this topic, as well as her frequent publication of open-access reports.
She notes that one of her key aims is to ensure that we fully understand the system that we have, and that we have enough information to make good policy choices.
"Often those have been guided by anecdote, or by the opinions of the most powerful people in the room," she explains.
"They haven't taken a step back to look at what's actually good for people in the way that you might conduct randomised controlled trials in medicine, for example. A lot of my work has been around trying to add that empirical information into the discussion."
Dr Toy-Cronin's work has had a significant and tangible impact. It has translated into changes in court rules and guided funding decisions –and notably, it influenced the increase to the legal aid budget in 2021.
Dr Toy-Cronin's notes that one of her most significant ongoing projects is Wayfinding for Civil Justice, which aims to develop a national strategy for access to civil justice. She currently chairs the working group for the project, and says the aim is to develop "a greater strength of coordination and collaboration" between lawyers, judges and those involved within the community.
"In the more than a decade that I've been doing this work, I've observed that there can often be many cycles of repetition. Solutions are tried that aren't sustainable, or information about things that haven't worked in the past doesn't get passed on. There's a potential for energy and good intentions to be spent because we haven't learnt from experience".
"This project aims to pull people together and share information, so that everyone is pulling in the same direction and building on what's happened before."
In addition to her advocacy within the legal profession and the community, Dr Toy-Cronin has undertaken a number of initiatives at the Otago Faculty of Law to support the next generation of lawyers. These include introducing a new block of material to Otago's LAWS101 course highlighting issues in access to justice, supervising honours dissertations and postgraduate theses on access to justice topics and encouraging student involvement in access to justice projects.
She says that while learning the law is important, the profession also has a responsibility to keep an eye on those who can't access legal services. She has already seen her students make strong contributions to knowledge in this field and says it has been great to see the level of maturity and dedication.
Thinking about the changes she would like to see in the future, Dr Toy-Cronin says she wants to ensure the availability of strong information which can be used to guide policy choices.
"That needs to come from the government and court level, where we're actually collecting data about what's happening in our system to make informed choices," she says.
"We don't have that infrastructure in place at the moment, and I'd like to see that strengthened. As a sector, we need to move beyond anecdote and impression and start grounding ourselves in data the way that health or criminal justice is grounded in data."
"I would also like to see more collaboration and cooperation, so that we can use the limited resources we have in a smart way," she adds. "I think if all of these smart, energetic lawyers who are involved in the sector can pull together, we could do something really world-leading for access to justice in New Zealand."
The Access to Justice Award is sponsored by LexisNexis New Zealand – an organisation which prides itself on being a strong advocate for the rule of law. General manager Aya M. Riola says this advocacy is the cornerstone of its ethical responsibility to ensure that every aspect of its business offerings is in line with this principle.
"As a global leader in providing legal content, research, and analytics, we leverage our core expertise and resources for tangible change, working closely with partners in regions like the Pacific Islands to have easy access to explicit legal information," Riola says.
"Even amidst unprecedented challenges, such as COVID-19 restrictions, our commitment remained unwavering, and the partnership continues to grow and expand to this day."
To promote access to justice, LexisNexis is offering 1 Month Free* access to its products by signing up before the end of 2023. Get offer now!
*Terms and conditions apply. Offer applicable only to new customers.