Akin Gump grows in Asia and Europe with Binghams hires… BLP hires former DLA Piper chief for Asian expansion… Baker & McKenzie denies Mexican allegations… Singapore law firm accused of recommending a computer hacker to client… and Robin Thicke's lawyer reads between the blurred lines….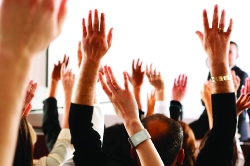 Akin Gump grows in Asia and Europe with Binghams hires
Akin Gump has boosted its Asia and London offices by hiring 22 partners from Bingham McCutcheons. It will also give the firm its first office in Germany. There has been much speculation of a merger between Binghams and Morgan Lewis & Bockius and it's not clear what impact this latest news will have on any merger. Charles Rogers and Naomi Moore are the two partners hired from the Hong Kong office. Akin Gump has said in a statement that the hires will enable it to enhance their brand globally.
Familiar face for BLP's Asian plans
Berwin Leighton Paisner plans to expand its Asian operations and has hired Bob Charlton to head up the team. Charlton was in charge of the Asian group for
DLA Piper
until last year and will head the firm's offices in Hong Kong, Beijing and Singapore as well as its recently formed Asian Network of alliance partners across the region.
Baker & McKenzie dismiss Mexican allegations
Baker & McKenzie says the allegations made in a Mexican lawsuit against the firm and its client Yahoo, are untrue and will be challenged. The action claims that the firm corrupted a judge in order to avoid a large fine for Yahoo.
Man sues wife and her law firm over hacking claim
The Singapore Attorney-General's Chambers is investigating an allegation by a man who claims his wife hired a hacker to access his laptop and then used information obtained against him in a divorce action. The man further alleges that his wife's law firm recommended the hacker. A High Court Justice referred the case to the AGC.
Copyright case blurred by prescription drugs
Singer Robin Thicke claims that he was high on prescription drugs and alcohol during the writing of his hit song 'Blurred Lines' and at many of the interviews he did following its release. The estate of Marvin Gaye claims that the song plagiarises the late Motown legend's song "Got to Give It Up" but Thicke says it was mostly written by Pharell Williams and he only began taking credit for it when it became a huge hit. Thicke's lawyer Howard King of King, Holmes, Paterno & Berliner says that the Gaye estate is trying to use his client's personal vulnerability to "divert attention from the weakness of their original claim".