'You aren't an ally until the group that you're advocating for recognizes you as such'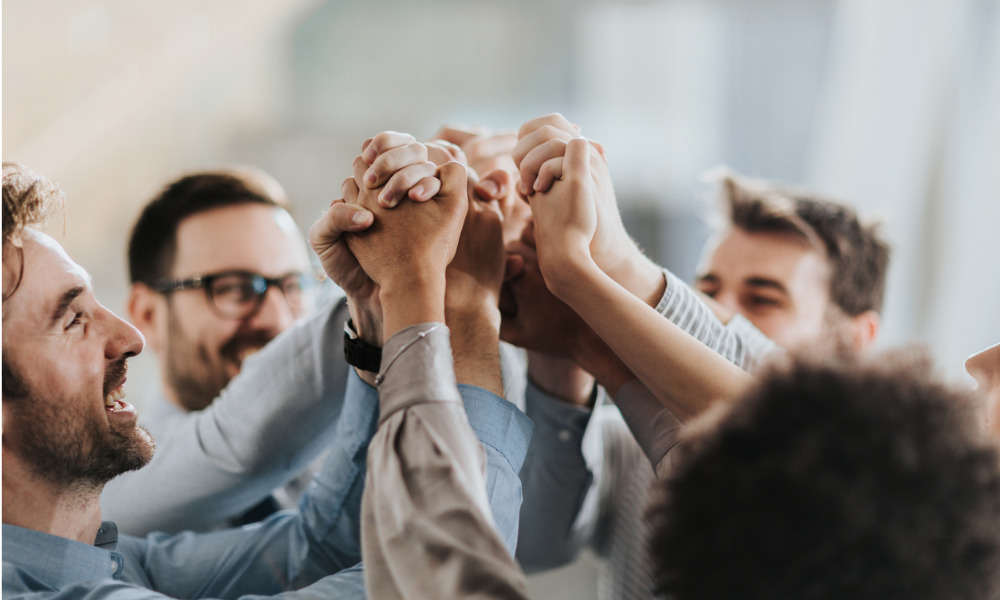 Many men talk a good game about being good allies for women in the workplace, but a new survey shows this claim is definitely overblown.
Taking a deep dive into how women and men perceive the practice of allyship in the workplace — in which a person advocates and actively works for the inclusion of a marginalized group — there are wide gaps, finds the survey involving 1,150 respondents.
For one, in looking at the continuum of allyship, from "anti" or "ambivalent" to "active" or "advocate," 45 per cent of women in the C-suite say men are in the active or advocate stages — compared to 77 per cent of men in the C-suite.
Similar variation is found in middle to senior management (36 per cent of women compared to 67 per cent of men) and lower management (28 per cent of women compared to 51 per cent of men).
When asked about men regularly taking actions to be allies of women, only 28 per cent of women agreed, versus 49 per cent of men, shows the State of Allyship-in-Action Benchmark Study.
"Men always inflate what they're doing in the area of allyship, and we definitely saw that in our research," says Kim Graham Lee, CEO of the Integrating Women Leaders Foundation (IWL), in talking about the results of a survey by her foundation looking at allyship in the workplace.
"In the context of focusing on males being allies to women, we say that you can't call yourself an ally — that's performative allyship… you aren't an ally until the group that you're advocating for recognizes you as such."
"This isn't about shame; it's not about judgment — it's about trying to educate and make people aware of what's happening," says Lee.
Same old story
Similar sentiments were raised in another survey, this time for LGBT+ employees.
"I was positively surprised by the number of respondents that basically said that their employers were demonstrating a commitment to LGBT+ inclusion and then in turn, the impact that's happening is also good and I was pleasantly surprised by that as well," says Emma Codd, global inclusion leader at Deloitte Global in London, U.K.
The study heard from 600 employees who identify as LGBT+ in February, from 12 countries.
However, the findings showed a disturbingly high number of workers (42 per cent) still reported non-inclusive actions while on the job.
Such things as unwelcome jokes or comments (33 per cent), laughter at the employee's expense (31 per cent), as well as unwanted physical contact (21 per cent) or being left out of social occasions (20 per cent) were some of the most popular behaviours reported in the survey.
These results are being manifested in a "sort of strange mix," says Codd, as they showed that the problem is being addressed but harmful actions are still taking place.
"You've got employers who are talking more about it; they're enabling ERGs [employee resource groups] to be set up, they often have allyship programs and you've got LGBT+ people saying, 'This is having a positive impact.' And yet, you've got these respondents saying, 'But I'm experiencing non-inclusive behaviours,' and you've got around half who do not feel comfortable or able or willing to be out beyond their closest colleagues."
Fight continues down under
An advocacy group in Australia, ACON, recently called on government departments and public institutions to focus on its Pride in Diversity campaign as an all-encompassing not-for-profit employer support program advocating for LGBTQ+ workplace inclusion.
The issue comes into light as the group issued a clarificatory statement regarding articles published by major news site The Daily Telegraph. One particular article stated that ACON lobbies for "all-gender toilets."
However, a closer look at ACON's campaign reveals that Pride in Diversity is more than just advocating for "all-gender toilets" in the workplace.
ACON maintained that the goal of Pride in Diversity has always been working with employers to ensure a more inclusive workplace for LGBT+ workers and increase awareness among their colleagues.