Model is providing more productivity, global employment study finds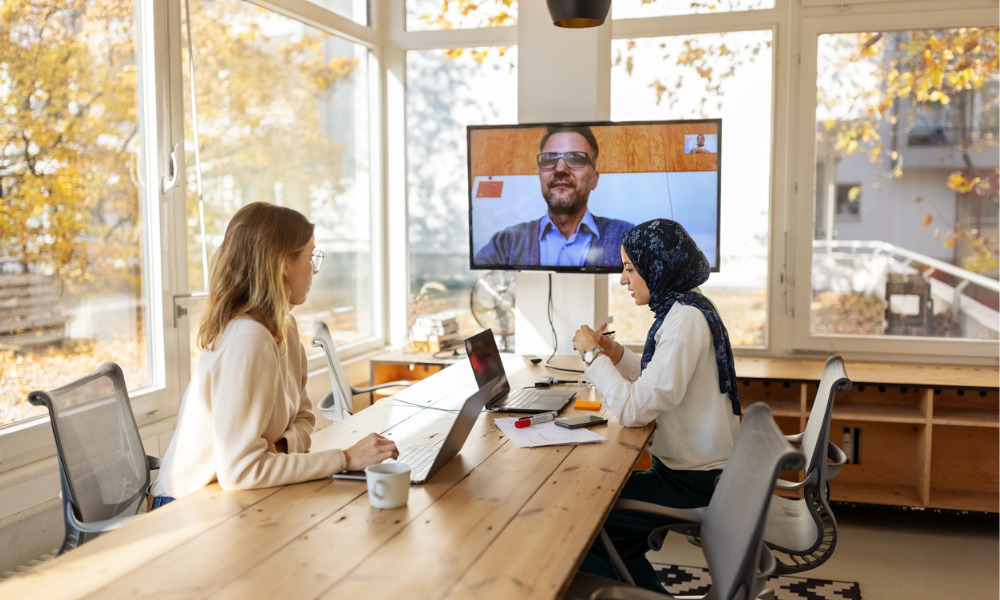 Employers everywhere are wrestling with the best way to run a workplace, whether that means requiring workers always on-site or allowing for the right mix of remote and hybrid.
The successful recipe for this has yet to be formulated by many organizations.
Good news for employers however, is that a new study is showing that one model seems to be delivering the most productivity to workplace.
On average, hybrid working employees deliver nearly two extra weeks of work a year for their employer, finds global workplace consultancy AWA, citing three studies.
Specifically, workers not going into an office save, on average, 72 minutes a day from not having to commute, according to findings from the National Bureau of Economic Research. Of this time, they dedicate 28.8 minutes to additional work.
Employees were working from home an average of 3.5 days a week, AWA's Hybrid Working Index, found in a global study of 220 offices in 33 countries, representing nearly 250,000 employees, conducted between October and November.
The numbers suggest they work an additional 101 minutes, or 1.7 hours, a week, according to AWA. Over a working year of roughly 45 weeks, this would equate to 75.6 extra hours of work, or just over 9.5 days, assuming an eight-hour day.
The power of a distraction-free environment
One thing that employees can get from working hybrid is more time to do their job, according to AWA's report. Specifically, nearly two-thirds of the average office worker's time is associated with working alone, with half of that time requiring a distraction-free environment to enable focused work.
In contrast, when workers are in a distraction-free environment, they dedicate more than half of their time to working alone or focused work.
"A hybrid system can lead to significant productivity improvements by allowing people to pick and choose the spaces they need for the activities they are doing at any given time," says AWA in its Why Employers Benefit From Hybrid Working report.
"Before the pandemic, one of the biggest complaints about working in an office was that the distractions created by noisy environments with poor acoustics created friction. Hybrid empowers employees to work wherever they will have the fewest distractions, whether they're doing solo focused work or team activities."
The pros and cons of all methods
But many employers continue to ask, what is the best way to keep everybody happy while ensuring productivity remains high?
The pandemic really changed the way many see work and how it can be done. Hordes of workers did their jobs at home during this time and while many have been returning to the physical workplace, many others haven't.
Some employers have realized that they can still accomplish what they want to with remote workers, while others have had employees who have gotten used to working at home resisting the return to the office.
Remote work can be great for workers who enjoy being in the comfort of their own homes and don't have to worry about a grueling commute. But it can be challenging for managers — nearly half of managers says they were finding it more difficult to manage people remotely and nearly eight in 10 says they needed training on how to do their job better in hybrid and remote environments, according to a survey.
Hybrid work environments also seem to be all the rage, as a sort of compromise between the pro-office and pro-remote camps but employers have to be careful that they don't favour in-office workers, as that could lead to potential liability to accusations of unfairness or even discrimination.
Of course, employers have concerns about what employees are doing when they're not under the direct supervision of the boss in person. A survey spanning Canada, the U.S., and Australia from 2022 found that nearly one in four workers admit to slacking off while working at home.
Another new study is warning employers that the perfect model of work remains elusive.
The Hackett Group's Thriving in the Emerging Hybrid Workplace finds that policies mandated for all workers in jobs that can be done remotely can lead to decreased engagement, reduced desire to stay with the employer, a decrease in the amount of work done each day and increased commuting time.
How can workers achieve the most from a collaborative environment?
Making employees spend most of their time in the office may also be counterproductive, according to the research.
"HR and business leaders need to dig a bit deeper to understand the factors that drive the ability of employees to collaborate," says The Hackett Group Senior Research Director Tony DiRomualdo in a media release.
"Increasing in-person time alone — absent any other measures — is not really necessarily going to move the needle much. For example, if you go back to an office where it's loud, it's noisy, you don't have good places to interact with people, chances are you may struggle to connect and to collaborate just as much as you might if working virtually."
Instead, employers might have better luck in improving workplace outcomes by giving employees choice — as well as manager-employee-negotiated virtual work arrangements.
"The major success factors for companies are flexibility and trust," says DiRomualdo.
"Companies need to understand that employees have a diverse range of responsibilities and work styles, and they should implement policies and support practices and tools that enable staff to excel in their jobs regardless of location."