'This generation may need more training when it comes to professional skills'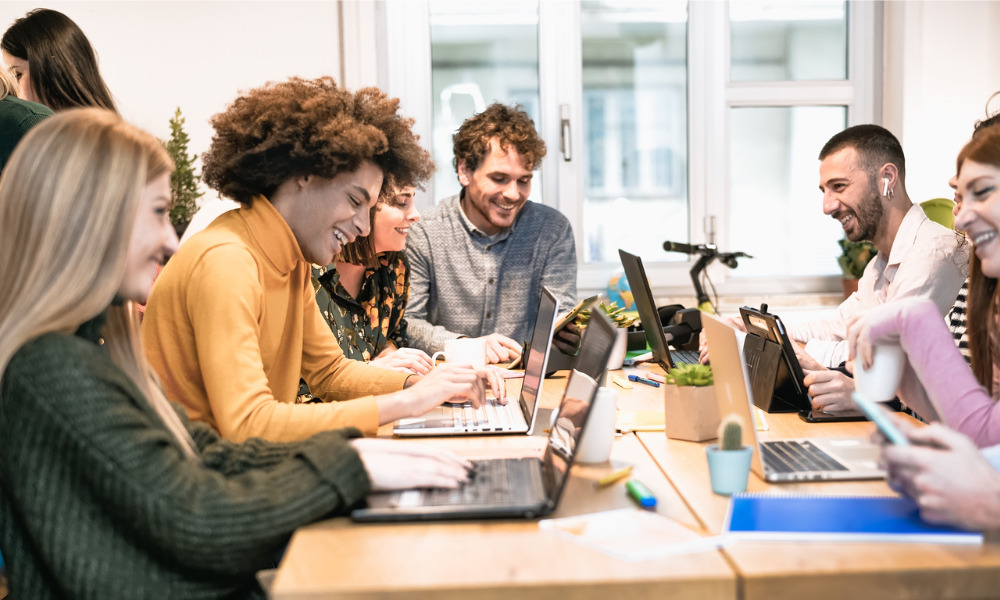 The youngest workplace generation is proving to be a challenge, according to recent research and reports.
Organizations are discovering that Generation Z employees are more demanding in areas such as diversity and inclusion and flexibility of workplace hours and location, along with benefits and compensation.
But some employers are also reporting that a high percentage of this cohort are being fired — many early in their tenure – and are more difficult to work with.
Nearly three-quarters (74%) of managers and business leaders say they find Gen Z to be more difficult than other generations to work with, according to ResumeBuilder.com.
Among these managers, 59% say they've fired a Gen Z worker. Nearly one in five (19%) say that letting these workers go is much more common while 46% say it's somewhat more common.
And some have decided to part ways with their Gen Z employees rather quickly. Twenty percent say they've had to fire a Gen Z employee within a week of the employee's start date, while 27% have done so within a month.
Remote workers not as strong on communication
Among those who say Gen Z workers are difficult to work with, 34% say they prefer to work with Millennials who they find to be the most productive (44%) and have the best technological skills (42%).
"As a result of COVID-19 and remote education, it's possible that GenZers lack the foundation to be more successful than older generations in entry-level positions," says Chief Career Advisor Stacie Haller.
"We know that with remote work and education, communication skills do not develop as well and people tend to work more independently. Hiring managers need to be cognizant of this when interviewing GenZers for positions. This generation may need more training when it comes to professional skills."
It's clear that flexibility is key to keeping these younger employees engaged, regardless of how difficult they may be.
A new survey by tech company Shiftboard of 2,250 workers found that 51% of Millennials and 55% of Gen Z workers prefer having control over their work schedule.
According to the survey, 47% of Gen Z and 39% of Millennial employees want to have the ability to change their hours on short notice, whether to work more, less, or cancel a shift.
Another 38% of Gen Z and 33% of Millennials also value being able to exchange overtime hours for additional time off, according to the report.
One-size-fits-all management is no longer relevant
The findings indicate that while some generations focus on earning potential, others prioritize flexibility in their schedules, according to Sterling Wilson, president and CEO of Shiftboard.
"Managers used to the preferences of older generations might find these statistics surprising," says Wilson.
The findings come as the 2021 data from the U.S. Bureau of Labour revealed that 20% of hourly workers are Gen Zs. Another 35% are Millennials, 31% are Gen X, while 13% are Baby Boomers.
"An awareness of these varied demographics is critical for workforce managers, as the past's one‑size‑fits‑all management strategies and processes are no longer relevant for attracting and retaining talent in today's complex labour landscape," says the report.
When it comes to the legal profession, older lawyers would do well to be prepared for younger colleagues by being truly genuine in acknowledging their unique demands.
Zoomers — born between 1996 and 2012 — have proven to be "completely different" from their immediate predecessors in how they approach their careers, says Tenisha Younge Wint, manager of diversity and inclusion at Cassels Brock & Blackwell LLP.
Not following through on DEI 'dealbreaker' for young lawyers
They have distinct mindsets, goals, and expectations and are looking for work-life balance, mentorship, coaching, and technological adoption.
Sometimes the younger generation takes a skeptical view of an organization's professed DEI commitments. Because Younge Wint is the DEI manager, articling and summer students schedule "offline" conversations with her during the recruitment process, often to ask about the DEI projects the firm is executing and also about how recently they have been engaged in these projects.
"When we're thinking about the unfortunate murder of George Floyd, we saw such a shift in the culture of companies and organizations who ran to hire diversity-and-inclusion consultants, and everybody was really concerned at that particular stage.
"But when we're fast-forwarding into 2023, there are a lot of companies and organizations who are no longer upholding the same standards that they were talking about back then."
In Younge Wint's offline conversations, students want to ensure the firm they are attaching themselves to is not one of those companies that used the correct terminology in 2020 but did not follow through.
"Those are dealbreakers for them," she says.