Jump to winners | Jump to methodology | View PDF
In a year filled with uncertainty, the legal profession had to make significant adjust-ments. While some areas of law saw rising activity due to the onset of the COVID-19 pandemic, others struggled. In the face of lockdowns, firms and organisations also suddenly needed to change the way they operated, which impacted lawyers in different ways.
Some lawyers grappled with balancing work and home life once both were so inter-twined. Others battled the effects of isolation on their wellbeing. COVID-19 also created novel challenges for practitioners in tackling their work.
Nonetheless, not all changes were bad – law firms and businesses found themselves accelerating the transition to flexible work arrangements and welcoming the inclusion of tech in their operations more readily in response to restrictions. Organisations were also forced to innovate in terms of service delivery to clients, especially as court proceed-ings went virtual. Lawyers also stepped up their commitment to vital initiatives like diversity and inclusion and climate change.
The importance of work-life balance
According to DLA Piper partners Laura Scampion and Reuben Woods, two of this year's Most Influential Lawyers, one aspect of lawyers' lives that took a real hit from the COVID-19 pandemic was wellbeing.
"Our people lost their work-life separa-tion during the lockdowns, so we had to reset and adjust priorities quickly," Scampion says.
Woods adds that creating boundaries between work and personal life became diffi-cult as clients amped up communications beyond regular work hours.
"I have noticed a significant uptick in clients' willingness to call and book in meet ings at all hours of the morning, evening and weekend," he says. "With so many of them working from home around the world, they are struggling to delineate between work and life hours, and that has a flow-on effect."
Thus, the establishment of support systems to help lawyers create these bounda-ries became vital.
"During the pandemic, our firm intro-duced a number of measures across the globe to assist our people," Scampion says. "These ranged from an online hub with advice and support to offering sabbaticals and flexible working schemes."
Going forward, Woods says it will be key to sustain the positives of flexible work arrangements without allowing the circum-stances of working remotely to take over lawyers' private lives.
"We need to lock in the gains made in terms of flexible working, which will make life much easier for a lot of lawyers juggling all of the other aspects of their life," he says. "We need to continue providing excellent client service but not feel bad about turning off our laptops and phones and being fully present at home."
Mark Boddington, group legal services manager at Scientific Software and Systems and another of this year's Most Influential Lawyers, echoes the need for support targeted towards those working remotely.
"Keeping employees' wellbeing front and centre when making decisions about how we work is very important," Boddington says. "Permitting remote working and developing a greater acceptance of flexible working arrangements are positive steps, but they need to be supported by appropriate poli-cies and strategies for dealing with any issues that may arise."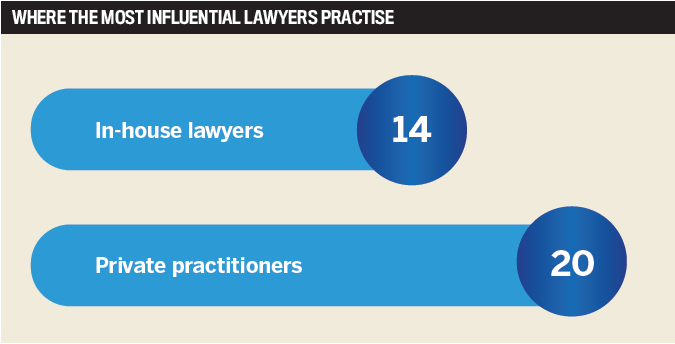 Ready for change
The shift to remote work was a critical one for the legal profession as a whole. However, for many in-house lawyers, flexible work arrangements had already been in place for a while, which cushioned the impact of the change.
Boddington believes the difficulty of such a transition lies in an organisation's level of preparedness.
"Whether remote working has been a challenge for in-house lawyers during the pandemic is largely dependent on their employer's preparedness in terms of business continuity and their willingness to make use of applications like Google Meet and Zoom," he says.
During the pandemic, Boddington has noticed companies reflecting on how they do business, "considering their values and what is important to them". Businesses are also "planning how to stay competitive beyond the pandemic", he says.
As a result, in-house counsel has been exposed to a wider range of issues, Boddington says. As in-house lawyers build on their knowledge, their value to a business is bolstered; this, in turn, could heighten demand as companies increasingly see the benefits of cultivating in-house legal teams.
"Being adaptable and flexible are useful traits during periods of uncertainty," Boddington explains. "If we want to benefit from new ways of doing things and avoid disruption in the future, we need to think more about the nature of change and how we manage it. We need to be willing to change how we do things rather than just react to events as they unfold."
Scampion believes the changes introduced to the profession during COVID-19 also need to drive wider-reaching developments.
"Law firms need to become more values-driven businesses for a range of reasons, and the challenges presented during the pandemic highlighted this," she says. "Changes made during COVID-19 need to lead on to wider change where firms become more responsible businesses, collaborating with clients, communities and suppliers to promote inclusion and belonging, as well as embedding a culture of sustainability and accountability."
Scampion points to social mobility and contextual recruitment as areas the legal profession should focus on.
"Law firms should not be the domain of the privileged," she says. "People from any background in New Zealand should have the opportunity to work in a law firm, be it as a lawyer or business professional."
Scampion adds that not allowing budgetary or financial concerns to deprioritise diversity and inclusion programs, wellbeing, and pro bono work could help the legal profession sustain its adaptability and flex-ibility post-COVID-19.
"Being a responsible business is no longer an option for law firms; it's an obligation," she says.
Woods agrees that the legal profes-sion needs to focus on social mobility and recruiting with diversity in mind, given the pandemic's varied effects on different parts of the community.
"There has also been a lot of talk about the K-shaped recovery, with the adverse impacts of the pandemic disproportionately impacting some parts of the community, while other people's businesses and financial positions have bounced back and thrived," he says. "This inevitably hits the lower socio-economic and minority communities much harder than others. The law profession is, and can increasingly be, an active participant and force on matters relating to environ-mental, social and corporate governance."
Moving forward through innovation
Woods also believes law firms need to embrace the confidence "derived from having survived and thrived" through the challenges of the past year, using it to "shake the legal profession out of its slumber and become more innovative and entrepreneurial".
"Where advancing in the market will depend almost entirely on a firm's ability to innovate, the larger firms will need to deliver solutions beyond traditional legal services to help clients succeed in the modern business environment," Scampion says. "Integrating best-in-class technology with legal advice will be key. Our clients are innovating quickly; if firms don't match their pace, they will become irrelevant."
Boddington agrees that the use of tech-nology is key to innovative service delivery.
"Technology adoption will accelerate," he says. "This will lead to new business models for the delivery of legal services, especially in areas such as compliance."
COVID-19 has drastically altered the way the legal profession operates, and in the process, certain lawyers have risen to the occasion. And it's not just experienced veterans setting the bar for the profession – many young lawyers are also making their mark as positive influences on the industry. NZ Lawyer's inaugural Most Influential Lawyers list celebrates 34 lawyers who are transforming the New Zealand legal commu-nity for the better.
Change-Makers
Anna Buchly
Chair, Bell Gully
Allison Arthur-Young
Board Chair and Partner, Russell McVeagh
Grant Pritchard


Legal Business Partner, Mental Health Advocate, Spark New Zealand

Henry Stokes


General Counsel, Perpetual Guardian

Jeremy Sutton


Barrister, Jeremy Sutton Barrister

Louise Taylor


Special Counsel, Russell McVeagh

Mai Chen


Managing Partner, Chen Palmer

Mark Boddington


Group Legal Services Manager, Scientific Software and Systems

Shan Wilson
Pro Bono Partner, Simpson Grierson
Theresa Donnelly


Legal Services Manager, Perpetual Guardian
Government, Non-Profits and Associations
Prudence Steven QC


Barrister, Canterbury Chambers / Environment Court Judge and District Court Judge

Ann Brennan


Chief Legal Advisor, GM Legal, Ethics and Privacy, Ministry of Business, Innovation & Employment

Cassie Nicholson


Deputy Chief Parliamentary Counsel, Parliamentary Counsel Office

Nick Kynoch


General Counsel, Generate KiwiSaver
Human Rights, Advocacy and Criminal Law
Julie-Anne Kincade QC


Criminal Barrister, Blackstone Chambers

Marie Dyhrberg QC


Owner, Marie Dyhrberg Barrister

Rez Gardi
Co-Founder, The University of Auckland Centre for Asia Pacific Refugee Studies
Tupe Solomon-Tanoa'i


Chief Philanthropic Officer, Michael and Suzanne Borrin Foundation
Business
Andrew Cordner


Director of Legal, Fonterra Co-operative Group Limited

Julian Benefield


Associate general counsel & Company Secretary, Foodstuffs North Island Ltd
Business
Angela Harford


Partner, Bell Gully

Hayley Cassidy


Chief General Counsel, Bank of New Zealand

Jono Willis


General Counsel, Lion New Zealand and Little World Beverages

Leah Taylor


Privacy Specialist, Zespri International

Maria Sopoaga
Solicitor, MinterEllisonRuddWatts
Nicola Swan
Partner, Chapman Tripp
Rachel Dunne


Partner, Chapman Tripp

Wook Jin Lee
Partner, Dentons Kensington Swan
All nominees were asked to provide specific examples of their accomplishments and contributions to the legal profession. It is not a requirement to hold a formal law qualification to be included in this list.
The research team reviewed the nominations, evaluating them based on the overall impact of each nominee's contributions. The 34 lawyers who made the final list were those who delivered specific outcomes in support of their peers and the industry.