Jump to winners | Jump to methodology
Celebrating Aotearoa New Zealand's top female legal talent
The New Zealand Law Society estimated that 71.8% of new law graduates would be female in 2021 – a huge transformation from the 26.3% recorded back in 1980.
Women are increasingly making a presence on the lists of powerful and influential lawyers.
Having been a winner in 2021, Juno Legal director and lawyer Helen Mackay is no stranger to NZ Lawyer's Elite Women. She says the award has been a great boost for her and has helped her to support other up-and-coming lawyers.
"It's all about how you use your position as a woman in leadership to lift up other women and other lawyers"



Helen Mackay, Juno Legal
"It's all about how you use your position as a woman in leadership to lift up other women and other lawyers," Mackay explains.
"For me, all of the women named on this list are examples of women who use their influence in this way. That's what we should all be doing, and I think that's what really makes people stand out – not only using titles to advance their own career but also to advance the careers of others."
Genevieve Hancock, convenor of the Wellington Women Lawyers' Association, is also heartened by the progress and urges female lawyers to disregard stereotypes. "There's no one career path and no one way for everyone to work," she says.
"Try to work out what suits you best and stick with it. And always look after yourself: mentally, physically and financially."
All of NZ Lawyer's Elite Women 2022 are examples of that ethos, and everyone is recognised for their outstanding professional abilities and the high regard they are held in by their peers.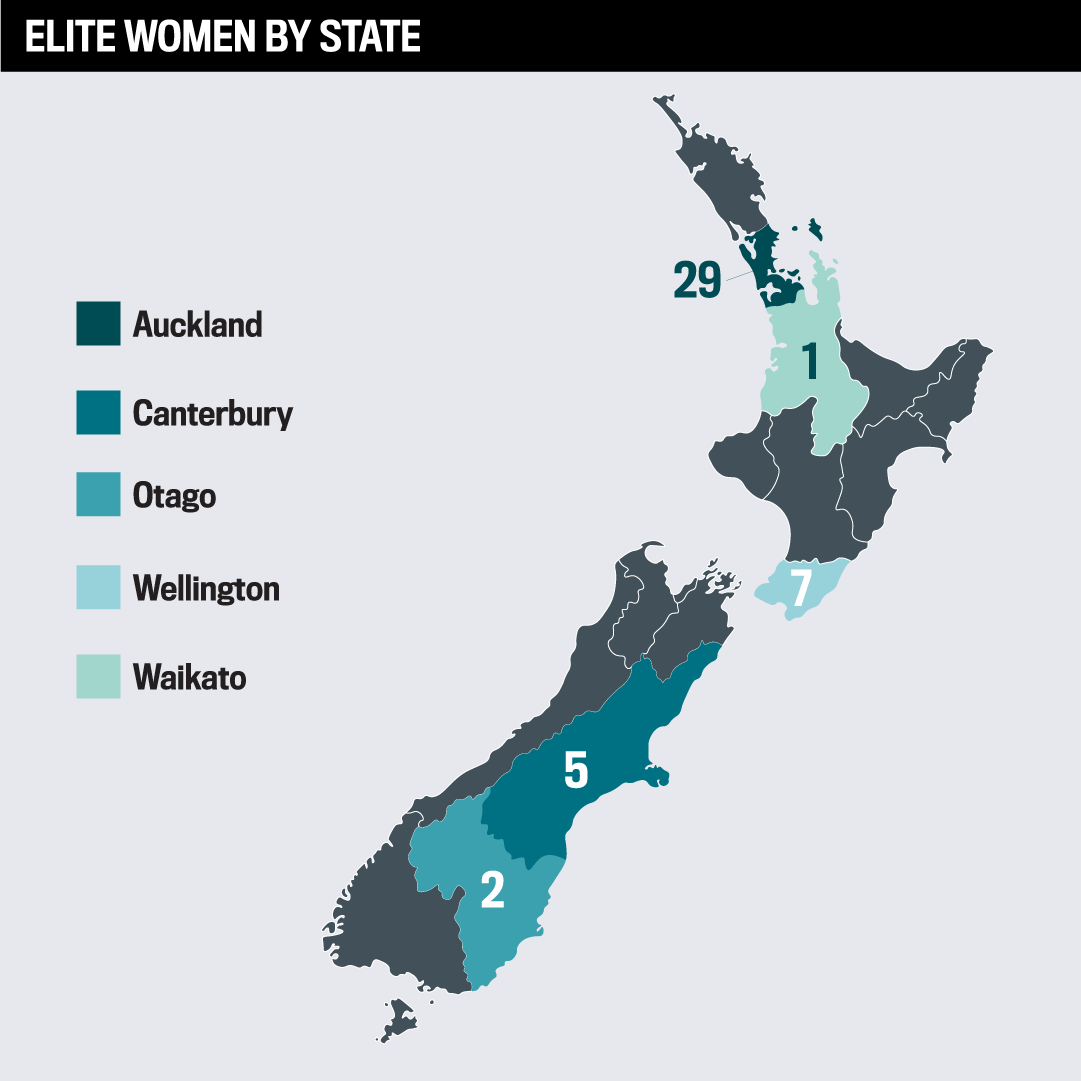 Leading by example
NZ Lawyer's Elite Women have all battled their way into traditionally male-dominated sectors of law.
One of this year's winners, Fiona McMillan, a partner at Lane Neave, revealed her 'superpower': "I have never felt the imposter syndrome that a lot of women feel. I am okay with the fact that there will be people in the room that will be smarter than me, but I work hard enough to know that I can hold my own in any environment."
For McMillan, success has been "a mix of good management, hard work and good luck." A highly respected employment lawyer, she is a regular speaker at industry conferences and has appeared on Seven Sharp, a half-hour-long current affairs program produced by Television New Zealand, to discuss employment law and workplace issues. However, she says it's the people around her who have propelled her career to new heights.
"Lane Neave has done nothing but support me and tell me to 'just go for it' with everything I've wanted to do," McMillan says. "I'm also very lucky to work with a group of lawyers who are diligent, clever and know how to laugh along the way. Finally, my clients have all been incredibly loyal and supportive of me throughout my career."
Another winner who embodies determination and legal skill is Dentons Kensington Swan partner Hayley Miller, who has built a successful practice from scratch.
Her nominator says, "Hayley is one of the most successful partners in the firm. She's a member of the board and has battled gender inequality throughout her career. I think her hiring me, an immigrant from Turkey, is a perfect example of who she is."
She adds that Miller "goes out of her way to teach and promote members of her team and others in the firm."
Claire Evans is also a winner who "takes her position as a role model seriously," and her nominator notes that she regularly shares details of her career pathway and choices with others so that they can see what's possible.
"[She wants others to see that] it should be considered a natural occurrence to hold a leadership position in a firm, grow a successful law practice, be an independent director, and raise a happy family."
Vocus/2degrees general counsel Emily Acland, another 2022 Elite Woman, has been a vocal advocate for parental leave policy changes over the last year. She has presented to the New Zealand executive of Vocus on parental leave support and genuine flexibility when returning to work.
"I'm pleased to say that being a woman has never held me back in terms of recruitment, promotion or the work and support I have been provided"



Tess von Dadelszen, Morrison Kent
True talent
None of NZ Lawyer's Elite Women would be honoured if they didn't have exemplary technical skills.
Rebecca Scott, a partner at Lane Neave, reveals what her strengths are. "I am able to analyse a situation quickly to grasp the issues and focus on the salient points."
For winner Scott, her relationship-building ability is where she truly shines. "I form long-lasting relationships with clients, and we enjoy working with each other," she says. "I work hard for clients not to feel alone with their problems, but that they are part of a team who are working to solve it."
"I am finely balanced between an extrovert and an introvert," she adds. "The legal industry is ideal for such a personality type; I love getting to meet new clients and walk alongside them as they navigate tricky disputes. I also get to sit alone and review masses of information and legal cases to assess the strengths of my clients' situations."
"My advice is to work hard and enjoy it. Take opportunities that are right for you, not because you feel like it's something you should do"



Fiona McMillan, Lane Neave

Unlocking success
NZ Lawyer's 2022 Elite Women have had varied career paths, and some have celebrated phenomenal successes – from starting their own practices to working on landmark projects, contributing to legal academics and advocating for clients through legal aid.
One such is mediator Nina Khouri, one of only half a dozen full-time commercial mediators in New Zealand, who has battled through a traditionally conservative sector to achieve her current position.
"All but Nina are, like me, men over 50," her nominator explains. "The gatekeepers and referrers of this sector are usually senior litigators, usually older and male. They place enormous trust in the mediators they promote and appoint. It is deeply impressive that Nina has cracked this world so comprehensively."
But there is still work to be done. The New Zealand Law Society notes that women are still "severely underrepresented in senior legal roles," and although most law graduates are women, they make up only a third of partners and directors in law firms. Forty percent of barristers are women, but they only make up 23% of the King's Counsel.
Tess von Dadelszen, another winner and a partner at Morrison Kent, is upfront about this issue. "I'm pleased to say that being a woman has never held me back in terms of recruitment, promotion or the work and support I have been provided. I also don't believe my gender has helped me on those fronts. So far as I am aware, I've been treated the same as my male colleagues and peers, and I like that."
von Dadelszen is also upfront about having to make personal choices throughout her career. "I'm pretty determined to be the best I can be at what I do," she says.
"I've worked hard, but since having my own family, I have always made a point of prioritising them. My boys – my husband and two sons – are my world and my 'why'. I believe that being honest with myself and others about that has allowed me to bring my real self to work, and it has been gratifying to see that approach as one that has helped me get to where I am in my career."
When it comes to reaching the top of her field, von Dadelszen attributes her success to her willingness to put in the effort. "That could mean some additional hours from time to time or playing a long game in terms of the type of work you want to be doing and/or what you want to be paid," she explains. "Don't expect it to be handed to you. In my experience, working hard for something makes achieving it far more gratifying."
The 2022 Elite Women show that opportunities for women in law are growing rapidly, and new industry entrants have some incredible role models.
Juno Legal's Mackay expects to see the number of women in law continue to grow, particularly in the in-house space. While there are still changes that need to be made, she says many firms are doing "fantastic work" in promoting flexible opportunities and women's advancement.
"We lose a lot of great women because they don't find a way of combining everything that they want to do, and my advice would be to stay in the profession but find a place that supports you to practice the way you want."
On the private practice side, McMillan says her work has been extremely rewarding but industry entrants should choose the path that feels right for them.
"My advice is to work hard and enjoy it. Take opportunities that are right for you, not because you feel like it's something you should do," she says.
Angela Parlane
Managing Director
Shine Lawyers NZ
Anna Buchly
Partner
Bell Gully
Anne Callinan
Partner
Simpson Grierson
Anne McLeod
Partner
Anderson Lloyd
Charlene Sell
Partner
Wynn Williams
Elena Kim
Director
PwC Legal
Emily Acland
General Counsel and GM Regulatory
Vocus/2degrees
Emma Priest
Barrister
Blackstone Chambers
Hayley Buckley
Partner and Head of Corporate Advisory and Transactions
Wynn Williams
Hayley Miller
Partner
Dentons Kensington Swan
Helen Mackay
Director
Juno Legal
Jennifer Caldwell
Senior Partner
Buddle Findlay
Jo Avenell
Chief Executive Officer
Russell McVeagh
Julie-Anne Kincade
Barrister
Blackstone Chambers
Kate Sheehan
Director
Kate Sheehan Lawyers
Katrina Van Houtte
Partner
Dentons Kensington Swan
Kerry O'Donnell
Partner
Anderson Lloyd
Laura Scampion
Country Managing Partner
DLA Piper
Liz Coats
Partner
Bell Gully
Mai Chen
Barrister
Public Law Toolbox Chambers
Maria Collett-Bevan
Senior Associate, Financial Services
MinterEllisonRuddWatts
Maria Pozza
Director and Lawyer
Gravity Lawyers
Mei Fern Johnson
Partner
Russell McVeagh
Nerida Kennedy
Commercial Lawyer
Datacom
Nicky Harrison
Director
PwC Legal
Nicola Silke
General Counsel and Company Secretary
Freightways
Nina Khouri
Commercial Mediator and Legal Academic
Nina Khouri Mediation
Paris Crystal Bree
General Counsel
New Zealand Oil & Gas
Polly Pope
Chair of Partnership
Russell McVeagh
Prue Tyler
Co-Founder and Managing Director
Shift Advisory
Rachael Brown
Partner
Bell Gully
Rachel Taylor
Partner and Co-Head of Corporate
DLA Piper
Sally Morris
Partner
Morris
Sophie East
Partner
Bell Gully
Sumudu Thode
Principal
Thode Utting & Co.
Tara Grant
Special Counsel
Martelli McKegg
Theresa Donnelly
Legal Services Manager
Perpetual Guardian
Vivian Zhang
Principal
Domain Legal
Nominators were asked to describe the nominee's standout professional achievements over the past 12 months, along with her contributions to diversity and inclusion and how she has given back through volunteer roles and charity work. Recommendations from managers and senior industry professionals were also taken into account.