Though the firm is not accused of a crime, its bank accounts are alleged to have held money pilfered from the Malaysian sovereign wealth fund.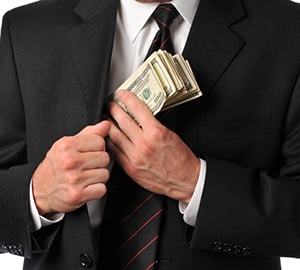 Shearman & Sterling LLP has become embroiled in the US Department of Justice's largest asset forfeiture case yet connected to the 1Malaysia Development Berhad (1MDB) controversy.
In a scandal that has gripped Malaysia and is seeing investigations commenced in a number of countries including the US and Switzerland, people close to beleaguered Malaysian Prime Minister Najib Razak are alleged to have stolen billions of dollars from the Malaysian sovereign wealth fund.
In a complaint filed by the justice department on Wednesday at the United States District Court in Los Angeles, bank accounts of the law firm Shearman & Sterling are said to have been used by those involved to transfer more than $1bn into the United States, a report from
The New York Times
revealed.
These funds were used to finance lavish parties, finance projects like 2013's box office hit 'The Wolf of Wall Street' and buy high-end properties, paintings by the likes of Picasso and Monet and a private jet.
In one transaction outlined in the complaint, 1MDB money from a deal with a company called PetroSaudi is said to have eventually ended up in a Shearman & Sterling account marked as for "client 37103 (TJL/RT MISCELLANEOUS INVESTMENT MATTERS)," according to
The New York Times
.
This money is said to have been used to buy the $30m Time Warner Center penthouse in Manhattan with a view of Central Park. The publication noted, however, that the white-shoe law firm is not accused of any wrongdoing.
1MDB which was set up in 2009 by Malaysia's prime minister to invest the money of Malaysian citizens. However, the complaint said that more than $3bn was diverted from the sovereign wealth fund for the sole benefit of corrupt individuals.
1MDB itself is not accused of any wrongdoing in the complaint. The fund has said in the past that it is cooperating with investigators.
Meanwhile, a report from
The Lawyer
revealed that the law firms Sullivan & Cromwell,
DLA Piper
, Akin Gump Strauss Hauer & Feld LLP and Greenberg Traurig LLP have been named in the complaint in connection with purchases of the real estate properties the justice department is seeking to seize. However, the complaint does not allege wrongdoing in the part of these law firms.