Pakistan's Supreme Court Bar Association also vowed to prepare a long-term plan of action after terrorists targeted lawyers at a protest.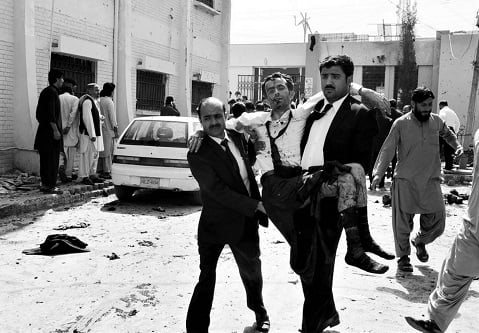 Lawyers in Pakistan set a week-long boycott of court proceedings to mourn and protest the most devastating terrorist attack specifically targeting lawyers.
In a report by the
BBC
, the country's Supreme Court Bar Association (SCBA) and the Pakistan Bar Council (PBC) are quoted saying their members are expected to shun proceedings and mourn for a week.
The attack has reaped condemnation from lawyers worldwide,
including from the Law Council of Australia
.
A suicide bomber attacked on Monday while in a crowd of lawyers who gathered to mourn the shooting death earlier that day of Balochistan Bar Association president Bilal Anwar Kasi.
The attack which happened at the Sandeman Civil Hospital of Quetta, the Balochistan province capital, left at least 70 people killed and more than 100 injured.
In an interview with the
BBC
, Shah Mohammad, an official of the local bar association who was at the gathering when the bomb went off, said that he saw what "seemed to be hundreds" of bodies lying over each other as he ran after the blast.
"Some of the bodies were burning, some were torn to pieces. Many of them had been my lifelong colleagues," the lawyer recalled of the hideous attack.
"We have been targeted because we always raise our voice for people's rights and for democracy," said Ali Zafar, SCBA president.
"Lawyers will not just protest the attach, but also prepare a long-term plan of action," he is quoted by the
BBC
.
According to
The New York Times
, Jamaat-ul-Ahrar which split from the Pakistani Taliban two years ago claimed responsibility for the bombing.
The group, which has expressed support for ISIS, also claimed responsibility for this year's Easter bombing of a park in Lahore, Pakistan which killed at least 75 people, mostly women and children.