Four new partners have been named for the new office.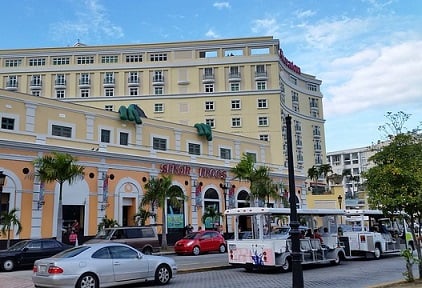 DLA Piper
has expanded to San Juan, Puerto Rico, appointing four partners who will start operations of the newly opened office.
The office will be initially comprised of partners Nikos Buxeda, Miriam de Lourdes Figueroa, José Alberto Sosa-Lloréns and Manuel López-Zambrana, the global firm announced. Buxeda has been named as the office's managing partner.
The move follows DLA Piper's recent partnership with Martinez Neira Abogados in Colombia and combinations with Gallastegui y Lozano, S.C. in Mexico and Davis LLP in Canada.
"DLA Piper has a growing strategic presence in Latin America and the Caribbean, and we are now in a position to provide the highest level of service on the ground to clients in Puerto Rico, further complementing our platform and services in the region," said Roger Meltzer, the firm's global co-chairman and co-chairman of the Americas.
"Puerto Rico is at a pivotal moment in its history, and we believe that with the help of these talented lawyers, we can play a role in helping the island overcome its current difficulties and become a vibrant economy again."
Robert Gruendel, co-chair of the firm's Latin American practice, revealed that Buxeda, de Lourdes Figueroa, Sosa-Lloréns and López-Zambrana have all worked with DLA piper in the past.
Furthermore, he said that Puerto Rico is "poised for significant investment in the years ahead, and the new office will work in close coordination with DLA Piper lawyers in the region and around the world.'"
Buxeda advises clients on corporate and securities law transactions including M&A, private placements, project finance and public-private partnerships and spin-offs. He has a J.D. from the Stanford and a B.A.,
cum laude
, from Harvard.
De Lourdes Figueroa – who received her J.D.,
cum
laude, from the Pontifical Catholic University in Puerto Rico and her LL.M. from Harvard – specialises infrastructure projects, public finance, project finance, public-private partnerships and administrative law.
Sosa-Lloréns – who has a J.D. and a B.B.A. (Finance) from the University of Puerto Rico and an LL.M. from Columbia Law School – is focused on securities and banking regulatory matters, international banking, M&A of financial institutions, and corporate reorganizations.
López-Zambrana – who has a B.A. and a J.D. from the University of Puerto Rico – specialises in tax matters.