Long-time Allens partner jumps ship to HSF… Two new partners at Corrs…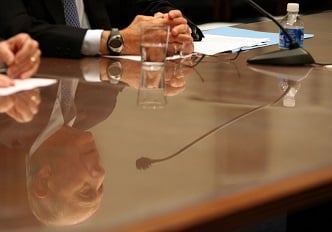 Study reveals lawyers with killer personalities, literally
An academic study has revealed the effect that the personalities of US prosecutors has had on the use of the death penalty.
The Fair Punishment Project, which assesses whether the US justice system is fair and accountable, reports that a small number of "overzealous" personalities disproportionately drove up death penalties in their respective areas, impacting the nationwide figures.
"This report suggests that the 'win-at-all-costs' mentality adopted by a small group of prosecutors has led to shockingly high rates of prosecutorial misconduct and wrongful convictions," notes Harvard Law Professor Ronald Sullivan.
The
report
also highlights that five prosecuting lawyers were responsible for the death of the equivalent of 1 in 7 of those currently on death row. It also found large incidents of misconduct by three of those lawyers in death penalty cases and that four of the five were responsible for 20 per cent of exonerations.
Long-time Allens partner jumps ship to HSF
Real estate partner Nicholas Cowie is joining
Herbert Smith Freehills
in Sydney having spent 21 years at Allens including 18 as a partner.
His practice has included many significant and complex property matters across Asia Pacific and will be a valuable asset to NSF's real estate practice which has seen strong growth regionally and globally.
Cowie is expected to start in his new job in October.
Two new partners at Corrs
Corrs Chambers Westgarth
has appointed two new partners and a special counsel.
Corporate advisory lawyer James Morley makes partner in Melbourne. He re-joined Corrs in 2012 having spent four years at the firm earlier in his career.
Banking & finance lawyer Simon Reid has been promoted to the partnership in Sydney; he has been with the firm for 5 years.
Meanwhile, Mel Schwing joins the firm as special counsel in the construction practice. Based in Melbourne, he has been working at overseas firms and is licensed to practice in Australia and the US.