An established specialist firm has announced plans to open an office in Perth later this year.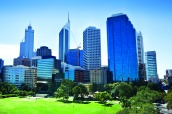 Insurance specialist firm Wotton + Kearney has announced it will open its doors in Perth this November.

Having worked with national clients in all jurisdictions in Australia for the past decade, the firm says establishing a Perth office will strengthen the capability, establishing themselves as a national insurance specialist.

Leading the Perth practice will be insurance specialist Riaan Piek, who will join the firm as a partner.

"Establishing an office in Perth will further strengthen our service offering to the insurance market, a large part of which writes commercial insurance business in the region," said a statement issued by the firm.

"Our expansion into Perth reinforces W+K's position as the only firm practising solely in insurance law in Australia's major cities and is a key part of our vision to be the leading specialist provider of legal services to the insurance industry."

The firm currently has offices in Sydney, Melbourne and Brisbane.