The firm is investing in three teams in Sydney, Melbourne, and Brisbane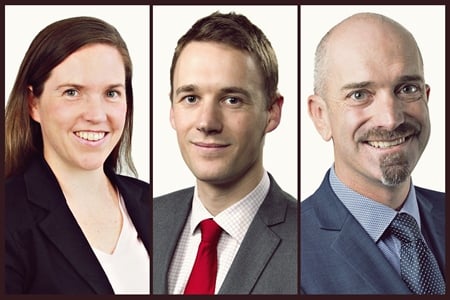 Norton Rose Fulbright (NRF) has appointed three senior lawyers to partner, bolstering three distinct teams in Sydney, Melbourne, and Brisbane.
Elevated to partner are Kelly Davies, Andrew Fisken, and Will Webster. The promotions bolster the firm's banking and finance, corporate and M&A, and real estate teams.
The new partners have extensive experience in international and domestic work. They also bring a strong understanding of many of the firm's core global industry areas, particularly mining, infrastructure, and energy, which includes renewables.
Davies, who is based in Sydney, has particular focus on the development, acquisition, and financing of energy projects. She has extensive relationships with major international and domestic energy players, including generators, producers, transmission and distribution network operators, retailers, and regulators.
Her power-purchase-agreement experience extends beyond Australia to markets including the UK, Africa, Europe, the Middle East, and Asia. She was promoted from senior consultant.
Fisken, who is an Asia-Pacific corporate and M&A lawyer, is moving to Melbourne from the firm's Hong Kong office. He is an expert in international M&A, with a particular focus on supporting clients in the Asia-Pacific region on cross-border investments and equity raisings for both public and private enterprises.
He is fluent in Mandarin and regularly advises Chinese clients on outbound investment in a broad range of sectors. Fisken was elevated from senior associate.
Webster, who is based in Brisbane, joined the firm as a special counsel in 2017. He moved from Clayton Utz, where he was also a special counsel. He has extensive experience in property and projects matters, having advised on some of the largest property transactions in the country.
He regularly acts on acquisitions, disposals, leasing, and development of properties for clients that include investors, developers, and government agencies. He also acts on matters that are connected to a broad range of industries, including renewable energy, mining, tourism and hospitality, and commercial and residential property.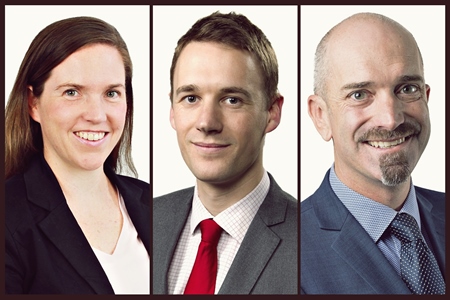 Kelly Davies, Andrew Fisken, and Will Webster
"My partners and I are proud to have been able to bring through Kelly, Andrew and Will to the partnership. Each has made a strong case for promotion and display the industry knowledge and expertise that we work hard to develop in our future leaders," said Wayne Spanner, managing partner in Australia. "Together with our recent pipeline of other promotions and lateral partner hires, we are building a strong foundation for continued excellence in client service in Australia and the broader Asia-Pacific region."
NRF recently named partner Jo Crew to lead its infrastructure and project and finance groups in Australia. It has recently also tasked partner Nick Abrahams to be the global head of technology and innovation of the firm. In February, the firm appointed its first-ever female chair.