One new firm is bucking the consolidation trend.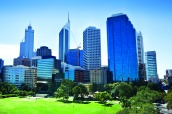 Former Ashurst partners James Bruining and Darren Grondal are bucking the consolidation trend by opening a boutique in Perth.
Managing director Grondal said recent market consolidation has left a gap for high value specialist boutiques, which the new firm, Grondal Bruining, is well placed to fill.
"We think essentially the firms that have headed toward globalisation and nationalisation have moved in a particular direction but what that's meant in our eyes is that there's been an emerging gap," Grondal told
Australasian Lawyer.
"Small firms which are agile enough have the ability to offer high quality services in [particular] focus areas, but also offering a cost advantage to their clients by keeping the costs and overheads lower than they might have otherwise been."
Grondal Bruining is positioning itself as a commercial law and litigation firm, focussing on power & utilities, oil & gas, resources and other commercial and industrial areas. The firm's third principal; Dean Grondal was formally in-house counsel at Cristal and previously the founding principal of a specialist litigation firm Maxim Litigation.
"We think that we're offering lower headline rates than others that might be in the market," Grondal said.
"We combine that with a lower leverage model and also flexibility in the way that we go out and work with our clients.
"We recognise the challenges being faced by businesses across a range of sectors, and the pressures this places on legal budgets. We think this new structure will give us the flexibility to provide a solution to those pressures while providing [top-tier] legal services in our areas of speciality."