The hub houses more than 350 entrepreneurs working in more than 110 start-ups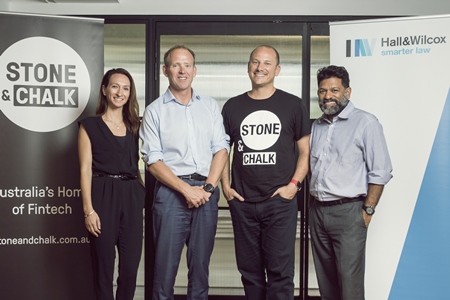 Hall & Wilcox has partnered with Asia's leading fintech start-up hub.
The national firm has entered into a corporate partnership with Stone & Chalk as Hall & Wilcox doubles down on becoming the firm of choice for the country's start-up community.
A not-for-profit organisation, Stone & Chalk supports fintech start-ups dedicated to rapidly scale and commercialise. Two years after opening its doors, the hub is home to more than 350 entrepreneurs working in more than 110 start-ups that have already raised more than $211 in funding and created more than 500 jobs.
Stone & Chalk 's other corporate partners are National Australia Bank, Australia and New Zealand Banking Group, Optus, Insurance Australia Group, Suncorp, and Westpac.
"Stone & Chalk has really helped drive and become the centre of gravity for fintech in Australia," said Sumith Perera, Hall & Wilcox COO.
He said the hub is the ideal partner for the firm – which previously incorporated a "smarter law" approach to client service – because of its start-up community, its innovation marketplace, and corporate innovation programs.
Alex Scandurra, Stone & Chalk CEO, said that the hub is always looking to partner with organisations that are genuinely committed to start-ups. He said his organisation thinks Hall & Wilcox has the right approach and is a cultural fit with the Stone & Chalk community.
The law firm will be part of Stone & Chalk's Insurtech Program 2018, which is an acceleration program for start-up technology in the insurance industry.
Hall & Wilcox has already been supporting start-ups with its "frank" service offering, which promises forthright advice, resources, and connections. The service offering has a dedicated team, flexible pricing and resourcing, and a focus on partnerships.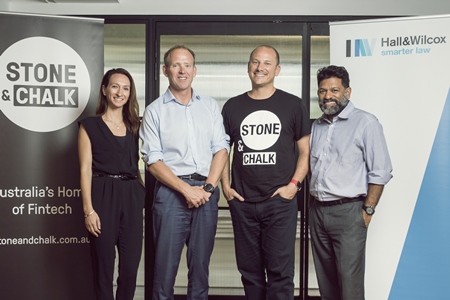 (L-R): Rita Yates, Stone & Chalk head of corporate partner experience; Tony Macvean, Hall & Wilcox managing partner; Alex Scandurra, Stone & Chalk CEO; Sumith Perera, Hall & Wilcox COO
Related stories:
Firms hire from each other
National firm takes in four senior lawyers