The wage gap between male and female lawyers is narrowing, according to a new report… Asia-Pac law firms celebrate award wins… Indian government to amend arbitration law… Apple facing lawsuit over security checks…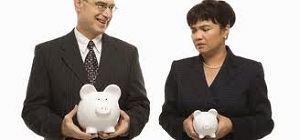 Equal pay for lawyers estimated in 2021
The wage gap between male and female lawyers in the UK is narrowing, according to a new report. The study from specialist recruitment firm Laurence Simmons shows that although men typically still earn more than female counterparts, their pay is decreasing while women are earning more. Female lawyers' wages increased 5 per cent last year while men earned 2 per cent less and the report suggests that if the trend continues then equal pay for both genders will be achieved in 2021. Currently the average UK lawyer's basic salary is the equivalent of around AU$193,000 for women and $237,000 for men. Men also earn 66 per cent more from bonuses with more men receiving them.
Asia-Pac law firms celebrate award wins
A number of law firms operating in the Asia-Pacific region have been recognised for their innovative approach to the business of law. The region's second Innovative Lawyer Awards were organised by the Financial Times following the success of a similar event in Europe which has been running for a decade. Most of the award categories have a winner that is based in the region and also an international firm which operates here.
Among the winners; Minter Ellison and Baker & McKenzie (for use of technology); Shin & Kim and
Linklaters
(corporate& commercial law); King & Wood Mallesons, Sidley Austin, and Skadden, Arps, Slate, Meagher and Flom (finance law); ZICOlaw and Eversheds (business of law); King & Wood Mallesons and Latham & Watkins (most innovative in Asia-Pacific). Gilbert + Tobin was most innovative in Australia.
Indian government to amend arbitration law
The Indian government is proposing amendments to the country's arbitration law. One of the main aims of the changes is to reduce the amount of litigation that the government itself is involved in; currently it is the biggest single litigant in India's courts with the Law Ministry estimating it is involved in 46 per cent of higher judiciary litigation. Press Trust of India reports that the proposals, which would speed up arbitration and cut fees, will be debated in the Monsoon session of Parliament.
Apple facing lawsuit over security checks
Apple's stringent security has not only angered some employees, it has also landed it with a lawsuit. The tech giant reportedly routinely searches the bags of its employees whenever they leave the premises and a lawsuit filed last week in the US is demanding that it pays staff for the time taken for the searches. DigitalTrends.com says that the plaintiffs call the searches "demeaning" and that managers at stores "are required to treat 'valued' employees as criminals."