The co-head of Minter Ellison's M&A practice has been hired by international law firm DLA Piper… Simmons & Simmons to close office following review… Allen & Overy is number one for EMEA syndicated lending… More barristers authorised for litigation in UK… Law school figures are not the full story…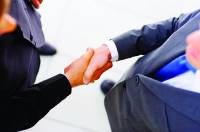 DLA Piper hires Minter Ellison partner for M&A practice
The co-head of Minter Ellison's M&A practice has been hired by international law firm DLA Piper. James Philips has advised on transactions worth more than $100 million and is a lecturer in fundraising at the University of Sydney. He is the sixth Corporate partner to join in the past four months, following the appointments of Grant Koch in Sydney (20 April), Michael Bowen, Scott Gibson and Marc Wilshaw and their teams in Perth (1 July) and David Hallam in Melbourne (3 August).
Simmons & Simmons to close office following review
A detailed review of its business has led Simmons & Simmons to consolidate its practice in Italy with the closure of its Rome office. The firm will continue to run its Italian business from Milan, where most of its clients are based. The nine partners from Rome will relocate to the Milan office.
Allen & Overy is number one for EMEA syndicated lending
Allen & Overy has been named the leading law firm for syndicated lending for the EMEA. The international firm advised more clients on deals in the first half of 2015 than any other firm according to Thomson Reuters. In fact A&O was involved in twice as many deals for borrowers and 39 more for lenders in the EMEA region than any other law firm.
More barristers authorised for litigation in UK
The UK's Bar Standards Board says that there has been an increase in the number of barristers authorised to conduct litigation. The Board's annual report shows that the increase has been slower than expected with just 214 authorised out of more than 15,000 regulated barristers since the rule change in January 2014. The Board also says that it is delaying its new alternative business structures by a few months; they were due to launch in June next year.
Law school figures are not the full story
US law school graduates from 2014 were more likely to find a job in the profession than those from previous years according to the National Association for Law Placement. However the figures may not show the full, and less rosy story. Bloomberg reports that a faction of the American Bar Association says that some of the graduates' salaries are paid for by the law schools themselves.