They may be fine and upstanding figureheads of society, but that doesn't mean that Judges can't have a bit of fun with some of their trickier cases: Australasian Lawyer looks at some of the more ridiculous sentences that have been handed out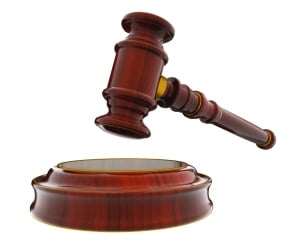 Judges must get sick of constantly having to deal with petty crimes that stem from sheer stupidity, so it's little wonder that some of them like to use a bit of ingenuity when handing down sentences.
Australasian Lawyer
has tracked down five of the best: Do you think the punishments fit the crimes?
Noise ordinance violators forced to listen to Barry Manilow…on loud
In a small town in Colorado a judge is so tired of hoons blasting their car stereos too loud he has developed his own penalty. To give offenders a taste of their own medicine, Judge Paul Sacco forces them to listen to blaring music for an hour. However, the music is cleverly designed to be as irritating as possible, and includes special numbers from Barry Manilow, Dolly Parton, nursery rhymes and classical music.
Judge has electrical meltdown, arrests entire courtroom
A New York judge decided to have a temper tantrum of epic proportions one day when he heard a mobile phone ring in his courtroom. After Judge Robert Restaino's demands for the culprit to confess went unanswered, he pulled a primary-school teacher style trick and arrested the entire courtroom – all 46 of them. While 32 posted bail, the remainders were shackled and sent to the cells. Restaino ordered them to be released later that day, but unsurprisingly, he himself was subsequently relieved of his position.
Judge orders 13-year-old to hack off her hair
In a completely inappropriate high school bully moment that rivals even the meanest girl on
Mean Girls
, two 13-year olds decided that it would be a great idea to start up a conversation with a toddler at a McDonald's playground and then chop off all her hair. The instigator of the pair was hauled before a court, where the Judge agreed to reduce her time in detention if she chopped off her own ponytail. The girl's mother took the reduction and instantly procured a pair of scissors, snipping the tail right off. The toddler's mum however was not impressed, and asked for the hair to be cut shorter. The sympathetic Judge agreed, and ordered the women to keep hacking away. The offender's mother is now suing the Judge.
Men sentenced to don high heels
Two 20-somethings who thought it was a good idea to throw bottles of beer at women in a car one night got a shock when the Judge handed them two options: jail for 60 days, or an afternoon walking through the central city sporting dresses, wigs and makeup. Evidently they chose the latter... Perhaps as an added bonus they learnt how to walk in heels.
Critic made to tweet apology almost 500 times
In a ground-breaking triumph, two French politicians won a conviction against a critic who had been repeatedly calling them names on Twitter. The Judge agreed that the behaviour was illegal, and as well as handing out a significant fine, ordered the critic to tweet the same message 466 times over the period of a month. The tweet read: "I have severely insulted Jean-Francois Cope and Nathalie Kosciusko-Morizet. I regret and apologise."