The first woman Chief Justice of the High Court of Australia is also the first woman to take silk and be appointed a Supreme Court judge in Queensland.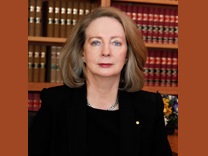 Women lawyers see the appointment of Susan Mary Kiefel AC as the next Chief Justice of the
High Court of Australia
as a sign of changing times.
Australian Women Lawyers President Ann-Maree David hints at the appointment as a positive sign for the push for gender equality. However, she notes that there's more that needs to be done which is precisely why organisations such as hers continue to be important.
"The appointment of Justice
Susan Kiefel
as Chief Justice of the High Court of Australia gives us confidence that times are changing. However, neither Australian Women Lawyers nor the public they serve will wait another 113 years to achieve equality in all regards," she tells
Australasian Lawyer
.
"Associations of Women Lawyers exist across Australia because there is a need to redress persistent inequality in the profession. This is most evident in the gender pay gap and in the slow rate of progress in the appointment of women to senior positions in both private practice and to the judiciary," David, also a member of the Women Lawyers Association of Queensland, says.
Justice Kiefel 62, will be Australia's thirteenth and first-ever woman Chief Justice, succeeding Justice Robert French AC who leaves the Court on 29 January 2017 after reaching the mandatory retirement age of 70. For 113 years, the country's highest court has been presided over by judges who are men.
Lawyers welcome Justice Kiefel's appointment
Various lawyer organisations applauded the appointment of Justice Kiefel, highlighting her distinguished career in law.
"The
Australian Bar Association
warmly welcomes the announcement of the appointment of Justice Susan Kiefel as Chief Justice of the High Court of Australia. Justice Kiefel has had an outstanding career to date as a Justice of the High Court and has long been held in the highest regard by the profession. It is also a significant milestone and worthy of acknowledging her Honour's appointment as the first female High Court Chief Justice in the court's 113-year history," says
Australian Bar Association
President Patrick O'Sullivan QC in a statement sent to
Australasian Lawyer
.
"Justice Kiefel is one of Australia's most outstanding judicial officers and an inspiration to young women throughout the profession and Australia," he adds.
Meanwhile, Law Council President
Stuart Clark
AM also offered praise for Justice Kiefel.
"Justice Kiefel's talent and commitment to her profession has taken her to Australia's highest judicial office. Justice Kiefel's success should serve as an inspiration to all young people considering a career in law," says Clark.
In announcing the appointment, Prime Minister
Malcolm Turnbull
also noted that Justice Kiefel's story is an inspiration.
Australia's incoming most senior judge left school at 15, worked as a legal secretary, studied at night to complete her high school qualifications before going on to take law and qualifying to practice. She has a Master of Laws from Cambridge.
Justice Kiefel comes from her post as the most senior puisne judge sitting on the High Court Bench where she has served since September 2007.
Her legal career has been highlighted with many first, including being the first woman to take silk in Queensland in 1987 and the first woman appointed judge of the State's Supreme Court in 1993.
In 1994, the Justice was appointed a Judge of the
Federal Court of Australia
, and served as a part-time Commissioner of the Australian Law Reform Commission from 2003-2007.
Young gun to take Justice Kiefel's current High Court appointment
Brisbane-based Federal Court Justice James Edelman has been appointed to the post to be vacated by Justice Kiefel.
Justice Edelman holds the degrees of Bachelor of Economics, Bachelor of Laws (First Class Honours), and Bachelor of Commerce. He also holds a Doctor of Philosophy from the University of Oxford after being chosen as the Rhodes Scholar for Western Australia in 1998.
In 2001, Justice Edelman was called to the Western Australia Bar and in 2008, the Bar of England and Wales. He has also lectured in law and was appointed Professor of the Law of Obligations at the University of Oxford in 2008.
In 2011, Justice Edelman was appointed to the Supreme Court of Western Australia and was appointed to his current position as Judge of the Federal Court of Australia in April 2015.
Lawyers also welcomed Justice Edelman's appointment.
"Justice Edelman's career has been remarkable having made significant contributions as both an academic and legal practitioner. The breadth Justice Edleman's achievements to date are all the more remarkable by his relative youth," says Law Council President Clark.
"Underlying these achievements, however, has been a very clear commitment to public service, driven by a desire that the community should understand and respect the importance of the law for an ordered society."
Bar President O'Sullivan comments: "Justice Edelman's career to date has been one of stellar achievement in both academic and legal practice. We look forward to following both Chief Justice Kiefel and Justice Edelman in their continued commitment to public service, upholding the rule of law and delivering justice in Australia."
Related stories:
Stretched SA DPP spent nearly $1m on private counsel last year
Lighter Side: BigLaw partner shows how saying goodbye is done