Well respected Minter Ellison Rudd Watts partner Lloyd Kavanagh explains why he was told it was unlikely he would be successful as a lawyer, and how he proved them wrong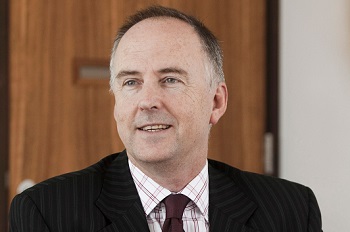 Lloyd Kavanagh, a highly respected partner at Minter Ellison's Kiwi affiliate Minter Ellison Rudd Watts, tells us about his quest to learn Spanish, and his determination to become a lawyer as a teenager.
What made you decide to become a lawyer?
The original idea came from hearing how lawyers can help people in small business. When I was at school in Waiuku, the teachers asked us what we wanted to do when we grew up. Most of the boys wanted to go farming or become engineers at NZ Steel. But I said I wanted to be a lawyer. I remembered being very impressed by a story my father told me about when he first came to Waiuku. He had been the manager of the local garage. In those days, there were restrictions on transporting freight 40 miles by road if there was a reasonably available rail link. So they faced regular prosecutions and fines for collecting urgently required auto parts from Auckland, rather than waiting for the weekly train. Eventually, the issue was solved when they retained a leading Auckland QC of the day, who successfully argued (in the Pukekohe Magistrates Court) that once a week was not "reasonably available". This story became almost folklaw – but was inspiring to me as an example of how a good lawyer can help.
My determination to be a lawyer was underscored, when, while I was in the 7
th
form, the liaison officer for a University, told me that given none of my family were lawyers (or indeed university graduates) it was very unlikely I would be successful as a lawyer. I headed to another University (Otago) determined to prove that gentleman wrong.
How long have you worked at Minter Ellison Rudd Watts
for and what brought you to that position?
I rejoined Minter Ellison Rudd Watts six years ago in 2008, with the objective of building a market leading financial services practice. In a way, it was like coming home, as I had started out my legal career at Rudd Watts & Stone in Wellington, practicing banking and tax law supervised by such luminaries as Richard Clarke (now QC – who drafted the Securities Act), (Sir) David Gascoigne (now the Judicial Conduct Commissioner), (Dame) Patsy Reddy and Geoff Harley (now a leading tax barrister). In between, I was a partner at another firm, and had an in-house career of eight years at Fonterra including as Associate Director for Mergers and Acquisitions which involved projects mainly in Latin America, but also Israel, the UK and Australia. During the same period, I was also a member of the NZ Securities Commission.
If you could invite three people for dinner, dead or alive and excluding family and friends, who would they be and why?
- Any of the nurses or doctors from Medecins sans Frontieres who are courageously fighting Ebola in Africa.
- Voltaire – the French philosopher who said "I disapprove of what you say, but I will defend to the death your right to say it."
- Larry Page or Sergey Brin – would be fascinating to hear what they think the world will be like in ten years time.
What's the best advice you've ever been given (work or personal)?
Rather than advice, it was a lesson learned. In 2003, when I was at Fonterra, I was lucky enough to be sent to Wharton for an executive short course, where I was the only person from a legal background, and the only person from the entire southern hemisphere in the class. Many of my classmates were very senior executives from top US and European companies. So I was feeling somewhat awed. But the lesson I learned is that as New Zealand lawyers we can be sure that we are well trained and are just as smart. So we should go into the world with confidence.
Do you have any hobbies/interests outside of work?
My interests are travel because I really enjoy learning about different cultures and places, and maintaining my Spanish (which I only started to learn when I turned 40). Speaking another language opens whole new worlds.
Complete this sentence: If I wasn't a lawyer, I would be…
That's a really hard question. At the moment, there is nothing else I'd rather be. I have had a number of careers: lawyer (both in a firm and in-house), regulator, dairy company executive, and enjoyed them all. But I am very interested in behavioural economics – and if I had my time over and was not able to be a lawyer perhaps I'd want to be in that field.
What do you love about your job?
Helping translate the complex into the simple, to help business people achieve their objectives effectively.
What would you change about your job right now if you could?
Nothing. I am loving it. If I wanted to change something, I would.