The last financial year has seen firms post significant growth despite market uncertainty and slowing transactional work.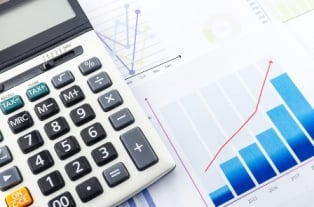 Clyde & Co has posted record revenue growth at 13% this financial year with a £447.3m turnover. One of the fastest growing global firms, Clyde & Co has opened six new offices in the past 12 months, merging with Scottish firm Simpson & Marwick, Lee & Lyons in Australia and Miami litigation firm Thornton Devis Fein.
"The twin themes of last year were continued strong and profitable revenue growth against a background of continued global expansion and significant investments that will enable us to become a more agile organisation," chief executive officer Peter Hasson said.
"One of the strengths of Clyde & Co is the balance of our business across both geographies and sectors and that is reflected again in these results."
Herbert Smith Freehills
drove profits up 7% this financial year, global revenue hitting £870m. With three new offices in the past 12 months and 16 high-profile partner hires, this year's results bring the firm's growth up by 20% over the past two years.
"This is the third consecutive year of significant progress for the firm," said joint CEO Sonya Leydecker.
"The quality of our people, our exceptional global reach and the calibre of work handled across all our practice groups has underpinned another strong financial performance."
Having launched in Sydney and Melbourne in 2015,
Pinsent Masons
has achieved a global revenue growth of 5.5% compared with the previous financial year with a turnover of £382.3m, revenue increasing almost a fifth over the past three years. The Advanced Manufacturing and Technology, Financial Services and Infrastructure sectors all contributed around 20% to global turnover, while the Energy and Real Estate sectors contributed around 12% each.
"This is an excellent set of results and one impacted by the strong start we have made in Australia," said partner and head of Pinsent Mason in Australia David Rennick said.
"Our clear focus on a proposition built around market-leading expertise in the infrastructure sector is yielding dividends."
Allen & Overy posted revenue growth of 2.3% globally at £1.31bn, continuing the firm's consistent growth since the GFC. Peerpoint, the firm's alternative delivery model, grew by 75% to 140 consultants, revenue up nearly 20%.
"The year has seen mixed markets around the world. On the one hand we had an M&A boom in developed markets during calendar 2015, while on the other hand clients also had to contend with a slowdown in China, the collapse of oil and commodity prices and rising uncertainty over the UK's referendum on whether to leave the European Union," said global managing partner Andrew Ballheimer.