DLA Piper has just opened its flagship office in Sydney, the design of which challenges traditional legal workspaces and will be replicated in other DLA buildings worldwide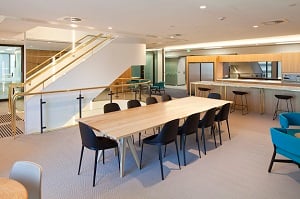 DLA Piper's Sydney office has officially relocated – not only that but it has been redesigned from scratch and flips the perception of a traditional legal workspace on its head.
The new flagship office at No. 1 Martin Place is in the heart of Sydney's business and financial community and occupies four open plan floors on a 10-year lease.
Sydney office managing partner Onno Bakker told
Australasian Lawyer
that the move is evidence of the firm's commitment to the Australian market.
"It's an essential part of the business. It's always been a strong market, and continues to be so," he said.
And although Sydney's DLA Piper team may have a bit to get used to, feedback about the new space has been overwhelmingly positive.
Predominantly open plan, it was designed in consultation with Woods Bagot and was constructed by FDC to align key DLA principles, including connectivity, collaboration, and apprenticeship.
"Traditionally, lawyers all have their own offices, but that's all changing – we've got open space," says Bakker. "Junior lawyers will have first-hand opportunities to see how more experienced practitioners work. There's a greater team feeling."
While partners will have the choice between having their own office, sharing an office, or joining the team in the open plan section, the design aesthetic of this is also a reversal of tradition.
Rather than being placed around the outer core of the building as is typical, the individual offices are at the centre of the space, with the open plan layout wrapping around them and boasting premium access to windows and natural light.
There are also communal facilities throughout the space including kitchens on every level, a 400 square metre outdoor terrace, and a central spiral stairwell that connects the three work floors.
"We have much more inter-group communication because of the open plan," says Bakker. "There's a lot more space we can now use to grow and take on more people."
He says it was always on the cards to find a more central location for the DLA Piper offices, but when this space came up with the ability to re-design it starting from a "blank piece of paper", it was an opportunity that couldn't be missed.
DLA Piper COO and managing partner, Australia, Andrew Darwin, says the new office is a big step in the evolution of the business.
"This move provided us with an excellent platform to apply some of the latest technologies and design principles, which we plan to replicate in other offices around the world."