Failure for alternative business structures says law chief… Making a Murderer lawyers to tour Australia…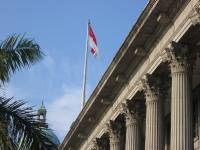 Dispute over benefits of foreign law firms in Singapore
The scheme which allows foreign law firms to operate in Singapore has been criticised for not creating enough benefits to locally-qualified lawyers. The managing partner of Morgan Lewis Stamford, Mrs Lee Suet Fern, spoke at a Law Society lecture and questioned why the Qualifying Foreign Law Practice scheme had led to the hire of "only about 100 out of thousands of Singapore-qualified lawyers".
According to theindependent.sg Mrs Lee, the sister-in-law of the Singaporean prime minister, said that foreign law firms had taken work away from local firms.
The Law Ministry has rebutted the claims though and says that the QFLP scheme has helped the city state become a regional law centre with many of the foreign firms doing work that would otherwise have been done elsewhere. That work gave new experience to Singaporean lawyers working with those firms.
The Ministry (MinLaw) also claimed that Mrs Lee has previously applied for a QFLP licence and sought an exception for the firm when advised that the application was outside of the specific application period.

Failure for alternative business structures says law chief
The aim of the UK's Solicitors Regulatory Authority to create professional services firms offering legal and accountancy services has not worked as planned. Paul Philip, CEO of the authority told the Law Society Risk and Compliance Conference that the alternative business structures introduced 5 years ago have failed to deliver on some of their objectives including allowing solicitors to offer legal services outside of law firms.
Regulations have meant that while 450 alternative business structures are offering multiple services including accountancy and legal, solicitors have been unable to take advantage of this until a recent relaxation of a key SRA rule.

Making a Murderer lawyers to tour Australia
The lawyers who have become famous for their appearance in online documentary series Making a Murderer are to tour Australia. The show focuses on the case of Steven Avery, jailed for murder in Wisconsin in 2007 having spent 18 years in jail after being wrongly accused of rape.
The Netflix docuseries has become a big hit and lawyers Dean Strang and Jerry Buting will be holding Q&A sessions in Perth, Sydney, Adelaide, Brisbane and Melbourne in November. Tickets go on sale this Tuesday.