This is the first time the law society has partnered with a legal education provider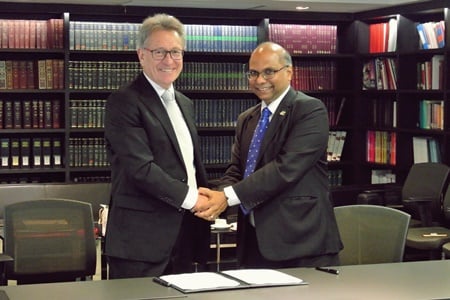 The College of Law has inked a partnership with the Law Society of Singapore.
The two organisations will collaborate on education and training programs for legal professionals in Singapore. The first in a wide array of courses the partnership will work on is a series of subjects about ASEAN law.
Gregory Vijayendran, president of the law society, and Neville Carter, group CEO of the College of Law, signed the memorandum of understanding in Singapore in late March.
"This collaboration will drive thought leadership in legal education policy. It is the first time the Law Society has partnered with a legal education provider, as we normally only collaborate with other bar associations," said Vijayendran. "The Law Society could not have asked for a better partner to build expertise among Singaporean lawyers, given the College's track record, pedigree and brand."
Carter said that the college, which was founded by the Law Society of New South Wales, is pleased to be associated with both Singapore and its law society.
"Singapore law is increasingly the governing law in commercial transactions in this region, and there is a growing interest to know more about Singapore law," Carter said.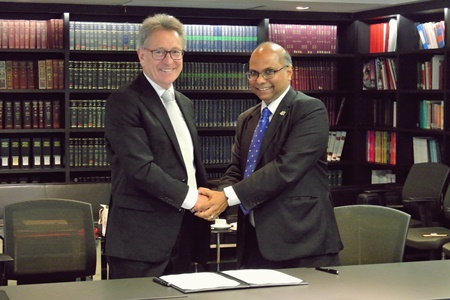 Neville Carter and Gregory Vijayendran
Related stories: