Prime Minister Tony Abbott's signing of a landmark free trade agreement with Japan will have a major impact on transaction flow and firms of all sizes can benefit, say experts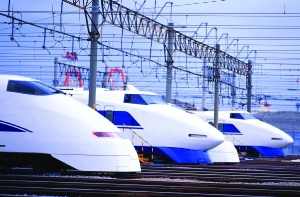 Smaller firms may have received Australia's signing of an unprecedented free trade agreement (FTA) with Japan last week with less enthusiasm than rivals that regularly engage in cross-border deals, but the agreement will have a far-reaching effect on transaction flow at all ends of the market.
This is according to Baker & McKenzie partner Richard Lustig who told
Australasian Lawyer
that the FTA has come at a symbolic time for Australia-Japan relations and the two countries' interests are now more aligned than ever.
"Japan has always strongly regarded the Australian market, but activity has been softer for some time. This puts us back on the radar," Lustig said
.
Lustig is the Australian head of Baker & McKenzie's Japan desk and says that an even spread of Japanese investment activity across sectors means that the benefits of the FTA won't be felt only in big firms.
"Japanese investors are involved in a lot of niche industry transactions in Australia. The FTA will create an environment that spurs that activity, because many of the obstacles for investing in Australia have been removed," Lustig said.
He forecasts industries such as agri-business, dairy and property to see increased deals activity, complementing Japanese investors' already high-engagement in the energy and resources sector.
Ian Williams, the head of
Ashurst
's North Asia Group, added that food and retail are other areas that could benefit. "The FTA is good for firms that will be facilitating M&As," Williams said.
Williams was also quick to point out a potential downside to the FTA: the fact that Japanese firms typically follow their clients into markets. This could see increased competition for cross-border work, although Williams sees this prospect as less likely.
"More likely this will translate into a drive for more cooperation in cross-border work," he said.
The real hurdle for firms will be in building client relationships. "In Japan, long-standing relationships stand. The challenge for local firms that do not have existing relationships with Japanese companies will be to get in [on deals]," Williams said.
Despite such challenges, Baker & McKenzie's Lustig said that firms shouldn't lose sight of the opportunity that the FTA presents.
"This has been years in negotiation. There has been some criticism of the extent of the FTA, but on the whole, it is a real coup for
Tony Abbott
. Japan's prime minister has been encouraging Japanese companies to invest in countries around the world and they have a real incentive to include Australia as one of those markets.
"The agreement is also symbolic. Back in the 1980s there was a lot of Japanese interest in Australia, but it has waned. When they see the Australian prime minister spending time in their country, the signing of an FTA, there's symbolism there. It says that Japan is getting preferential treatment."